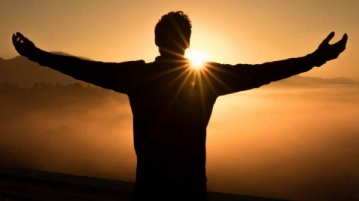 Since I was born, I have had the privilege to closely observe my parents navigating the ups and downs of life in what I considered, after 64 years, a near-perfect marriage. My mother, who now wears my father's wedding band on a necklace around her neck, as he has passed, I still refer to as "Saint Shirley," as she is virtuously perfect. My father, who was a great but imperfect man, was in many ways, a product of his upbringing. His emotionally abusive father, who was very financially successful, always told my dad from the time he was a boy that he would never succeed or amount to anything. Scarred, my father subsequently struggled with authority, and spent much time and energy trying to prove his father wrong.
When it came to my family though, my father would not pass on the cruel legacy laid upon him. He instead took the opposite approach, choosing to be kind, loving, gentle and supportive. While his ship of gold that he strived so hard to bring in for his family and his self-esteem never arrived in this life, I observed his enduring perseverance, his passion for work, his eternal optimism, and his deep love for his family, all traits which I breathed deeply into myself – core qualities, which have become part of me forever. If success is measured in the love, admiration, and respect of all who knew him, well then his father was wrong. We would all have to say that my father had passed on a most successful man.
By 22 years of age, barely out of art school, I believed that I had observed and absorbed all the necessary skills and ingredients to repeat my parents' great marital success. While I was aware of the wagon full of baggage that the girl I was about to get hitched to was towing, being young and na´ve, I truly believed that I could fix her brokenness, make her whole again, make her happy. For a brief time perhaps I did, but false notions like that erode over time. I was either a slow learner or just hard-headed, because it took me more than a decade to realize that I couldn't fix or change anyone, especially her. I could hardly fix or change myself. I also learned the hard way that we can't make anyone other than ourselves happy, nor is it our responsibility to do so. In life we are each tasked to find our own peace, joy and happiness.
Besides two amazing children, now adults, and three gorgeous grandchildren, one pictured here, my takeaway from all that emotional pain was that, if you can't accept and love the person exactly as they are, then it is in everyone's best interest to wish them goodwill and move on.
Over the course of many years, having applied the practical wisdom I had acquired from observing my parents, and all the many things I learned from my first marriage, I am now happily remarried. My wife Lauren and I have been in a joyous and loving relationship for nearly 25 years now. Lauren works at Peggy Adams Animal Rescue League, and we are blessed to share our lives and home with our pack of five furry adopted children. Through these close relationships we experience each day what divine unconditional love is!
All life is a precious gift to be cherished, even in challenging, difficult times. In each moment there are choices to be made, and through these choices, invaluable lessons to be learned. Whether the lessons are learned through our own direct experiences or through the observation of others, through the written word, or even through taking care of a seemingly insignificant plant, if our hearts are open and we are filled with gratitude, life will always present the golden opportunities we each need to grow and take our next step on our spiritual journey! As the air supports the soaring eagle, trust that the Universe will always have our backs, and be the wind beneath our wings!