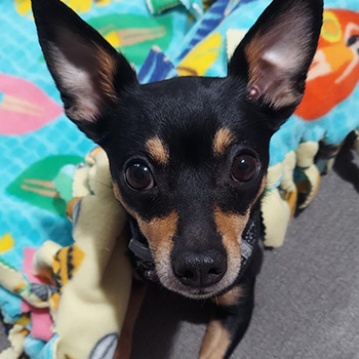 One early morning a small young dog squeezed through a fence, embarking on a big adventure. About 15 minutes passed before the owners realized they had left him outside. They frantically began scouring the neighborhood, joined by local police, friends, neighbors and dog lovers. They only had a blurry phone picture to share.
I had a sinking feeling that this dog could easily end up in the wrong hands. He was under a year old, intact (not neutered), a desirable breed and color. All I could do was help them look, while hoping for the best.
Worst of all, the dog wasn't wearing a collar with ID. "Oh, but he's microchipped," they said. Most of us, (even in rescue), do not carry chip readers. All readers do not register all chips.
If a pet is found after hours, vets and pet supply stores may be closed. Do NOT rely on microchips.
Always have a snug collar (no more than two fingers fit between it and the dog's neck) with ID on your dog. The only time my dogs don't have a collar on is when they are being bathed.
On the tag, use your last name (not the dog's name) and two phone numbers. It's more likely to have your dog returned if the finder thinks, "they don't even know their own name." I add on the back of my tags: Needs Medicine with my vet's name and number. It's more likely your pet will be returned if the finder thinks the dog is sick/ needs meds, and if an additional phone number to call is provided.
Keep current, in-focus photos of your dog handy: full face and body, both sides. Walk your dog daily so s/he knows the route home. This dog was not walked. When he made his break, he probably got easily disoriented, and didn't recognize (through scent, visual markers) where he was.
Never leave your dog unattended in the yard. The dangers of falling into a pool, Bufo toads, palm seeds etc. are not worth the risk. Gates can be mistakenly left open/unlocked, holes can be dug, or unsavory characters await the chance to dognap your furry family member. All of this happens in South Florida more than you can imagine.
Good Samaritans passed each other, calling his name, looking high and low, for this nowhere-to-be-found pup. The lady was in tears, thinking she may never see her dog again. He could be hit by a car, injured by a wild animal (coyote or raccoon), or taken by someone to be sold or bred. After looking for a while, we went in for water, and to think, where could he have gone? I checked my own dogs' collars and IDs.
We went out again that afternoon, hoping to find him or get news he was safe. Nothing. I continued to hope all would be well. The police said the owners had contacted the local shelter and animal control, filing lost reports.
They should have posted signs* on brightly colored paper in the neighborhood with:
LOST SMALL DOG Reward (list two phone numbers) If you find a pet, bring it to a local vet or pet supply where they can be scanned for a microchip. They might recognize the pet.
The next day, I was elated to hear he was home safe and sound, although tired from his big adventure! He was found by kind people, a ways from home. With no number on a tag to call, they took him to the shelter, 20 miles away. After paying the $30 impound fee, $15 boarding and $300 fee (since he is intact), they were on their way home to give him a bath and remove many grass seeds. An expensive, yet happy ending.
*When your dog is found, please REMOVE these signs.