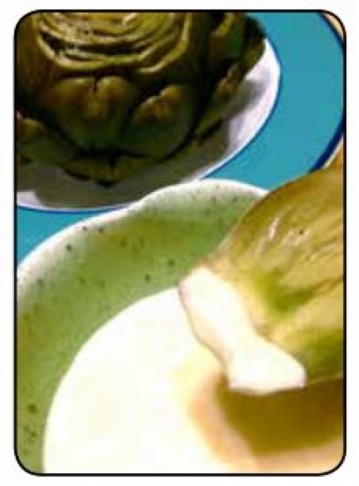 VEGAN SPINACH ARTICHOKE DIP
This recipe is a great beginning to any dinner party

- that one appetizer everyone will rave about. Creamy, warm and satisfying!
Serves 6
Ingredients:

• 1 (12 ounce package) frozen chopped spinach
• (thawed, drained and squeezed dry)
• 1 (12 ounce package) firm, silken organic tofu
• (option: replace tofu with 1 cup soaked/drained cashews)
• 1 (8 ounce) jar marinated artichoke hearts
• 1 tablespoon olive oil
• 1/2 finely chopped sweet onion

• 1/2 cup nutritional yeast flakes

• 3 garlic cloves

• 2 tablespoons apple-cider vinegar

• 1 teaspoon dried basil
• 1 teaspoon dried parsley
Salt and pepper to taste

Directions:
Preheat oven to 350º F. Saute onion, spinach and artichoke hearts in olive oil until onion is soft (about 5 minutes).
Blend together tofu (or soaked cashews), nutritional yeast, garlic, vinegar and spices in blender until smooth. Combine remaining ingredients. Taste, add salt and pepper to taste.
Other options: Add 1/2 teaspoon cayenne powder or 1 teaspoon lemon juice.
Smooth into a baking dish after rubbing sides with olive oil to prevent sticking.
Bake for 15 - 20 minutes or until lightly browned on top.
SERVE warm with bread, chips or veggie sticks.... ENJOY!
Caron Barr is a Holistic Healthcare Coach who has worked in Palm Beach County for over 20 years. Caron is a Registered Nurse who became interested in natural medicine after several years of hospital work and eventually feeling the extreme signs of stress (adrenal exhaustion). While HEALING herself she studied Alternative Medicine at Everglades University in Boca Raton, FL. It was there that she learned the tools to share her newfound passion. This lead her to a leading job at Hippocrates Health Institute where she worked with hundreds of guests helping them heal their bodies through plant-based nutrition and relaxation techniques. She is well versed in the diversity of people and health challenges South Florida brings.
Personalized Medicine is now in the forefront of healthcare. An individualized approach tailored to each of her client´s needs is a necessity in her work. Last year Caron founded Healing Housecalls, which brings her services into clients´ homes and offices.