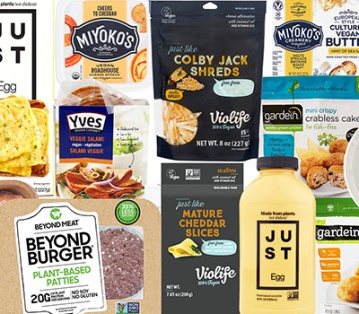 New to plant-based foods?
Unsure of what to buy? People so nervously anticipate the supposed restrictions of a plant-based diet… but ironically, there are a plethora of brands out there these days. It can actually be overwhelming to choose what products to buy amongst the explosion of animal-free offerings that have sprung up from the growing consumer demand. Fortunately for you all, I have tried most of the products on the market and I am happy to offer my top selections below!
Please note that this article is not discussing whole food plantbased meals, but rather, offering plant-based alternatives to meat and dairy, particularly as a helpful tool of dietary transition. Those who are accustomed to a Standard American Diet will find familiarity and satisfaction with these products, which will help them to feel empowered to make the switch!
Here are my must-haves: Beyond Meat is available in most grocery stores. Their offerings are all remarkably delicious and include: Beyond Sausage® (Brat original, Hot Italian and Sweet Italian), Beyond Breakfast Sausage®, Beyond Beef® (ground), Beyond Beef® Crumbles, Beyond Meatballs™, the Beyond Burger®, and the Cookout Classic™.
Gardein is also a staple in the freezer isle of nearly every grocery store in the U.S. They have the largest variety of offerings (too many to list here), but notably, my favorite products from them are the Crispy Golden Chick'n nuggets, Mini Crabless Cakes, and the Golden Fishless Filet. They also have a wonderful seasonal Holiday Roast (available around Thanksgiving and Christmas), or for those dining alone, they have a single-serving-size Savory Stuffed Plant-based Turky, complete with gravy!
Violife has quickly become my go-to vegan cheese brand, on account of both the marvelous realistic flavor and the widespread availability. Their Colby Jack Shreds are beyond compare! Also in their shredded lineup are Just Like Mozzarella and Cheddar. They have a fabulous lineup of sliced cheeses too, including smoked provolone, cheddar and mature cheddar (the latter is my favorite). They have a delicious "feta" cheese that I would more accurately compare to a goat cheese/chèvre consistency, as well as some decent block cheeses and cream cheese. I do prefer the Kite Hill cream cheese, however.
JUST (formerly Hampton Creek) has been an incredible game changer with their JUST Egg, that comes in both liquid form, or folded and sandwichready. They also have the most delicious, perfect mayo!
Most people are familiar with the household brand Silk at this point. I am only mentioning them because they have the BEST non-dairy soy creamer (original flavor). It has an excellent creamy, blendable consistency and a perfect finish – unlike many other nondairy creamers that have an unfortunate, bitter aftertaste, or a curdled consistency.
Finally, if you are craving a great deli sandwich, or want to make a vegan charcuterie plate, look no further than Yves for their fantastic salami and bologna! Available at Whole Foods.
For a more comprehensive list of brands, check out vegantransitioncoach.com/resources