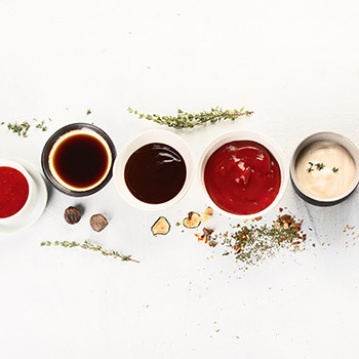 I am rarely satisfied with any store-bought salad dressings. Even the fresher ones that you find in the refrigerated section of the grocery store were prepared weeks, if not months, prior to purchase. Many have too much sugar, or undesirable oils – or have oil as a main ingredient. Shelf-stable dressings have preservatives and additives to maintain freshness. Plus, a highquality "clean" prepared salad dressing is expensive! I prefer to make my own dressings and dipping sauces. It's economical and so much better tasting. I change it up quite often, but I generally keep the following ingredients on hand:
• organic tahini

• fresh lemons

• red miso paste
• toasted sesame seeds
• fresh garlic cloves

• red onion

• apple cider vinegar (raw)

• nutritional yeast flakes

• vegan sour cream or unsweetened vegan yogurt (Kite Hill, Forager)

• Himalayan pink salt

• black pepper

• Sriracha sauce

• raw cashews

• raw agave

• maple syrup
• cayenne or chili flakes

• vegan parmesan (Violife)

• some fresh herbs (dill, cilantro, basil, oregano – whatever your preference)
Some quick application examples for reference:
Prepare a Tzatziki sauce using two tablespoons of vegan sour cream or yogurt, a freshly minced garlic clove, chopped cucumbers, chopped dill, salt, pepper and lemon juice.
Prepare a tahinimiso dressing using one tablespoon of tahini, one teaspoon of miso, one tablespoon of apple cider vinegar and sesame seeds.
For a vegan pesto, blend a handful of raw cashews, fresh basil, raw spinach, vegan Parmesan, raw garlic, salt and pepper.
You can make a quick and easy hot dipping sauce using tahini mixed with Sriracha sauce and some salt.
For a yummy dip to serve with vegan crabless cakes, nuggets, or a fishless filet, it's fun to combine vegan mayo with a vegan buffalo sauce. Add some garlic for an extra kick!
Make a vegan "honey" mustard dressing using equal parts organic mustard and agave (or date syrup or maple syrup).
Add nutritional yeast to any of the savory dressings for a little "cheesy" flavor!
Make a quick Teriyaki sauce using soy sauce, maple syrup, toasted sesame seeds, and minced garlic. Add some chili oil or dried chili for a little kick.
There's plenty more that can be done using some of these fun pantry/refrigerated ingredients! If you want more suggestions or have feedback after trying any of these combinations, please reach out: karen@vegantransitioncoach.com.