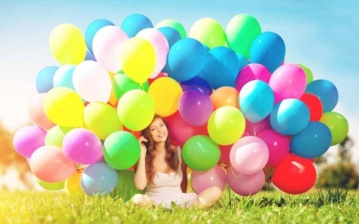 Soon, soon, soon, we'll get to go out and play, that's what we can say, each and every day. That rhyming singsong makes me feel like a child sitting in the classroom, waiting for the three o'clock school bell to ring.
After school, milk and cookies awaited and then, the beckoning of my bicycle made those sweet moments even more exciting.
Just the other day, while visiting my sister in Michigan, I borrowed a neighbor's bike. My hair, albeit much shorter than it was when I was 11, blew in the wind as I glided along the road. I loved feeling so carefree, and it reminded me of my youth. Those were days!
For many who are reading this now, aside from it being hot, hot, hot outside and COVID-19 going crazy, it's important to play. For many though, childhood wasn't all cookies and cream. It was fraught with limitations and struggles – from adults who didn't learn how to play or weren't of a mindset to give us freedom, to self imposed constraints and everyday hindrances. Each of us had different pasts and different experiences that shaped our relationship to fun and play.
Today is a new day.
It's important to bring new things into our lives. My goodness, just think about how many things we do for the sake of maintenance like sleeping, cooking, eating, washing, cleaning, exercise, more cleaning… so when we can add something new and exciting and liberating into our lives, that's what makes living great!!!
What, what are you thinking? I can hear you. You're not too old or too busy to play. My new motto, "I can teach this old dog new tricks!" Here are a few facts to keep in mind. You only feel old if you compare yourself to others. Feeling bad about your age may mean you have regrets about the past or haven't made peace with it. Reconcile now, wherever you can, so you too can go out and play.
Often, the baggage we carry from our childhoods can be very difficult to shake, especially when we've been exposed to deep trauma. Thich Nhat Hanh suggests breathing in and saying, "I go back to my inner child," and breathing out and saying, "I take care of my inner child."
Now is the perfect time to pause and reflect about what was, what is, and to just let it be, so play can become an important part of your life. How will you play? Maybe you'll go on an outing to the zoo, the theme parks, a water park. How about all the online games you can play? Maybe getting in touch with and nurturing your inner child, the one who still feels like the world is an oyster, will open you up to being a kid, even as an adult!
Lucy Chen, author of "Reconnect with Your Intelligent and Classy Inner Self Through Art," advises us to nurture our inner child. Here are some of her recommendations:
1. I love you.

Tell yourself that you are lovable. Say it whenever you see yourself in the mirror. Say it in any random moments. Love is the key to healing, so give it to yourself.
2. I hear you.

Oftentimes when we feel hurt, we push down our feelings and try to act strong. For a lot of us, this stems from childhood, when we frequently heard, "Quit your crying or I'll give you something to cry about." Instead of suppressing the voice of your inner child, say, "I hear you. We'll work through it. It's going to be okay." Then take yourself out to play.
3. I forgive you.

One of the quickest ways to destroy ourselves is to hold on to shame and regret. Can you forgive yourself for having carried that, if you did?
Say, "I forgive myself for anything I could have done better. I was and am human and imperfect."
4. Thank you.

Thank your inner child for never giving up, for getting through the tough moments in life with strength and perseverance.
Thank your inner child for trying to protect you. Your inner child doesn't deserve your judgment. Your inner child deserves gratitude and respect.
5. You did your best.
As a child, many of us were overachievers or we tried to meet someone else's standard, to be "perfect."
Some of us were demanding and cruel to ourselves and others, and no matter how well we did, or what we did, we never felt it was good enough.
Truth be told, we all did the best we could at the time. We're still doing the best we can and learning how to play as an adult can sure make life great!
Take good care. Focus on the best in yourself and in others. Let's pray for a healing world so we can all go out and play, each and every day. And on that note, maybe sing a song out loud or write a poem that rhymes.
That sounds like FUN!
PS: For those celebrating, Happy New Year!