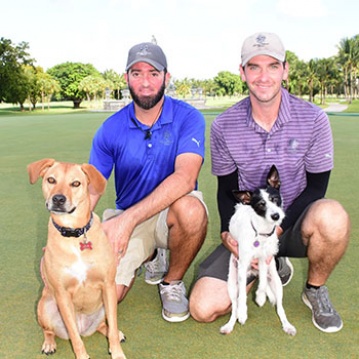 Cathy was a down-on-her luck pup in a rural shelter in Georgia. At just five months old, this russet-colored hound mix tried her best to catch someone's eye. She stood up and greeted everyone passing her kennel, wagging her tail. She cranked up her cuteness meter, yet she was always passed by. Cathy hoped to have a loving family and maybe, just maybe even an important job. She loved being outside, in the fresh air and sunshine.
One day something unusual happened. The shelter volunteers gathered her meager belongings (her favorite toy and blanket), along with a couple of other pups. "You are going on a big trip," they said.
"Wait, did they forget to give us our breakfast?" Cathy thought as her tummy grumbled. Fearful caution hung in the air. Dogs had left and come back sleepy, smelling weird. Others never returned. To keep morale up, older dogs comforted the newcomers, assuring them that they had gone to their forever families. These few dogs were packed up and on their way. All they could do was hope for the best.
Dog-loving newlyweds Tim and Alba planned to start a family within the next few years. "Having a dog would be a great trial run for responsibility and co-parenting. We wanted to give a great dog a second chance," Tim shared. They weren't set on a specific breed, but wanted a medium-sized, friendly, low maintenance, sturdy companion. Tim planned to take him/her to work. For more than three months they scoured local shelters and monitored websites. Another thing working in their favor: they were patient, and knew the best dog would find them, when the time was right.
Alba and Tim visited the Humane Society of Broward County. Even though they had left shelters empty-handed many times, Tim somehow felt today was the day.
"As soon as I saw her, it was love at first sight," Tim enthused. Now seven months old, Cathy had been renamed Princess Leia (of Star Wars fame). After all she had been through, Leia was a little shy and scared. "As we approached her kennel, she met us at the partition and licked our fingers. It seemed Leia knew this was her lucky day. Search over, we knew we had found our dog!" Tim recalled. Having completed their application online (prior to visiting), the adoption process went smoothly.
Already spayed, Leia came home within a couple days, and fit right in. Alba works from home as a systems software engineer, so they had plenty of time to get to know each other. "Leia is a sweet girl, and a quick learner with good recall," Alba noted. "We could not have asked for a better addition to our family."
The day arrived that they felt comfortable introducing Leia at Tim's work. Acres of gorgeous manicured real estate to romp and play upon awaited her. Tim is the superintendent (head groundskeeper) of Trump National Doral's legendary Blue Monster golf course, which played host to the PGA tour for over 50 years.
Rising before the sun, they usually start their work day by 5:30 a.m. Leia enjoys having free reign of the Blue Monster, with her canine coworker, Molly (a rescued terrier mix) and Molly's dad, Stephen. In between her jobs of keeping the squirrels at bay, deterring waterfowl from the greens, and discouraging armadillos from digging up the course, Leia refreshes herself in the sprinkler mist and catches the breeze riding shotgun in the golf cart with her dad. She even serves as a happiness ambassador to many Trump National Doral employees. No matter what her duties are, Leia always has a smile and an abundance of joyful energy. I think it's pure gratitude.