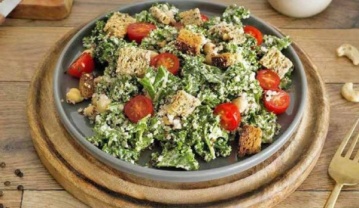 PREP-TIME: 10 MINUTES / READY IN: 20 MINUTES • MAKES 10 CUPS
All kale Caesar! This quick and satisfying salad is perfect for a light lunch or paired with a veggie burger as a side dish. The cashew-based Caesar dressing comes together quickly and adds a luscious creaminess to a fresh mixture of hearty quinoa, earthy kale, and sweet tomatoes. Don't forget the crunchy homemade croutons! (To make gluten-free, use certified gluten-free bread.)
INGREDIENTS

• cup quinoa, rinsed and drained (1 cup cooked)

• 2 slices whole-grain bread, cut into large cubes

• 1 (15-oz.) can chickpeas, drained and rinsed

• 6 oz. baby kale (6 cups)

• 6 oz. cherry tomatoes, halved (1 cup)
• ½ cup raw, unsalted cashews
• cup white wine vinegar

• cup unsweetened, unflavored plantbased milk

• 1 tablespoons Dijon mustard

• 2 cloves garlic
• Sea salt, to taste

• Freshly ground black pepper, to taste
INSTRUCTIONS

1. Preheat the oven to 375°F.
2. In a saucepan over high heat, bring quinoa and cup water to boiling. Reduce heat to low, cover, and simmer for 20 minutes. Remove from heat and let cool, covered; fluff quinoa with a fork.
3. In a bowl, soak cashews in very hot water for 15 minutes. Drain the water and rinse nuts.
4. Bake bread crumbs on a baking sheet around 8 to 10 minutes or until crisp. Remove from heat and let cool.
5. In a bowl, combine chickpeas, cooked quinoa, kale, and tomatoes.
6. In a high-powered blender (or food processor), combine soaked cashews, vinegar, plant milk, Dijon mustard, and garlic. Process until smooth. Season with salt and pepper to taste. Pour about half the Caesar dressing over kale salad; toss to coat. Top with croutons and serve with remaining dressing on the side.