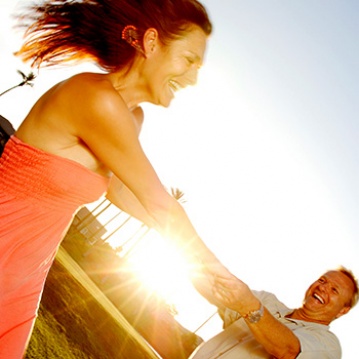 Choice. At the very core of our experience, it all comes down to personal choice. Even the Bible, which I experience as a sort of archetypal reference guide for Western thought, evokes free will as part of the human experience.
This column started out 20 years ago as a place to examine our everyday struggles in a positive light. It evolved from tales about my career challenges, parenting challenges to more personal growth struggles and analyzing where we fit into the larger picture. As have I.
But the spirit of this column continues: On the Bright Side is an exercise of active hope. And as with everything, the more you practice, the easier it becomes. Life at this moment offers an ideal opportunity to do so.
There is dark and light in every situation and every person. Experience sets the tone… bass, treble, sepia, noir, daylight, allegro… life events color our vision. But then there is choice.
The more of us who choose to view every experience as one that will teach us how to keep embracing life and to look for ourselves in each other, the more the zeitgeist of positivity will be able to spread among us, creating an ecosystem of positivity to nourish us.
We can complain about the things that make us angry. Or we can imagine the world we want and believe it is possible. Case in point: my idea that took roots years ago that has yet to come to full fruition becomes more relevant as each year passes.
I began writing this column shortly after the school shooting in Columbine, back in 1999. I've told my story over the years, but for newcomers I'll offer a short recap. I was depressed by the onslaught of the 24 hour news cycle which, at that time, was a new phenomenon. I noticed the impact it was having on social discourse even in its infancy. In short, I wanted to become the "Good News Girl" at the end of every broadcast (i.e. GNN). I even proposed the idea to an up-and-coming local Boca TV station that did not materialize.
I was met with the familiar "if it bleeds it leads" mentality and a dismissive "no one wants a Pollyanna" (insert eye roll with a grrrr sound). So I decided long ago that somehow viewing the world through "rose colored glasses" needed to be COOL! And thus, my character Rosey Shades was created.
I put her to work for a decade as an elementary school guidance counselor. I wrote a book that has received many "thank you, but it's not what we are looking for at this time" letters, and have kept this column going, because I still believe that the bright side needs to be highlighted as often as possible.
The funny thing is, rather than becoming disillusioned, I always felt there was value, and also knew that I have no idea how many people I impact, much like my teaching career. I always assume that I make a difference every day. Most I will probably never know.
But that's the beauty. In the big picture of life, I continue to make my little corner a little brighter, and I know that if we all do that, we cannot help but cause a shift in the right direction.