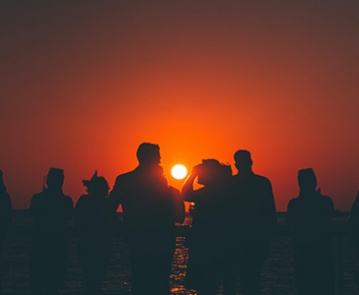 Watching a sunset is like switching the meditation button on. You just sit and watch and wait. It is automatically inspiring. Here on the east coast, we are invited to reflect as the sun rises. Rather than contemplating the events at the day's end, we can think about what we want to do with the new day we're given. A rising sun invokes a feeling of having the whole world in front of you. On the other hand, the setting sun reminds us that "tomorrow is another day." Really though, if you catch either, you luck out.
Either way, the sun reflects on the water and mirrors the sky, creating a majestic aura. With ease, we can't help but sit still and reflect on our own inner waters, hopefully illuminating parts of ourselves that might otherwise go unnoticed if we did not choose to sit still for those moments.
Cruising is another fun way to see them both. Out in the middle of the sea, horizon on every side, you can't miss. One evening, after playing slots in the casino and having a sweet run of luck, I gazed at the sunset, imagining a giant coin being inserted into the world slot machine. It reminded me that I had hit the jackpot, not only in the casino, but in life. We live in sunny South Florida, I'm blessed with a loving family, I have a job and my health.
As I soaked in the sunset, the lucky feeling settled into a deep gratitude. The sunset has hypnotic power. It came naturally to thank God, the universe and all people past and present who have been a force of good in their lifetimes. In the process, I began making a mental list of things that I could do to be a force for good in my lifetime.
Watching the sun continue to work its way below the horizon, it seemed to be saying, "I did my job today, how'd you do?"
I took this as a gentle reminder that without action, a list remains a list. Despite how very small we are relative to the universe, our smallest actions can mean the world to someone else.
It reminded me of a story I used to tell my kids:
Each evening hundreds of starfish wash up on the shore of a beach. An old woman walked the beach every evening picking up the starfish and throwing them back in. A passerby asked her why she bothered, when the next day there were sure to be hundreds more washing ashore, and she replied, "It may not seem like I am making a difference on this beach (she bends down and picks up a little starfish), but to this one, it makes all the difference in the world."
Not bad for 20 minutes of quiet meditation. Thank you, Sun :-)