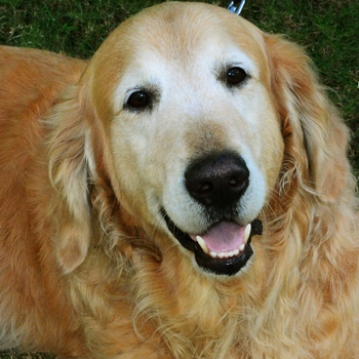 For years, we were cautioned to NEVER give dogs "people" food, (probably by the pet food industry). Maybe you found yourself in a pinch and ran out of dog food? Or, you want to give your dog something different? Curious what "people" foods are good for dogs?
Canned pumpkin* - high in fiber, vitamin A and antioxidants, it's a great remedy for an upset tummy, or to relieve constipation. Even my cat likes a spoonful. *NOT pumpkin pie filling.
Yogurt - packed with calcium, protein and probiotics, plain yogurt is welcomed by most dogs.
Idea - Mix 2/3 pumpkin and 1/3 plain yogurt, freeze in ice cube trays for healthy dog ice-cream. Once frozen, store in bag or airtight container, in freezer.
Eggs - raw with the shell provides biotin, protein, riboflavin and selenium. I blend and add to carrots and sweet potato.
Sweet potato - bake, chop and serve your dog an added dose of fiber, vitamin A and other nutrients.
Apple - chocked with phytonutrients, vitamins A and C, raw apples can be given with the skin on, but avoid feeding seeds or core.
Green beans - if your dog needs to lose weight, green beans (steam lightly) are low in calories and high in fiber.
Carrots - my dogs love raw baby carrots. Their easy size and sweetness conceals vitamin A and fiber. Carrots
are also a great way to tend to your dog's teeth.
Cottage cheese - In rescue, it's common to get a pregnant mom in, or a stray who needs to gain weight. Cottage cheese is high in fiber and highly digestible protein. Some dogs may be lactose-intolerant.
Oatmeal - a friend gave me a great dog treat cookbook, most of the recipes called for cornmeal or wheat flour. I substitute oatmeal, or grind it into flour. Oatmeal has vitamins, minerals and fiber and no side effects or allergy stimulus of corn, wheat or soy.
Quinoa - (say it: keen-wah) this nutritious seed/protein source (gluten-free) packs a punch of essential amino acids. Cook a extra, sprinkle in your dog's bowl, add some veggies and a dollop of yogurt. Voila! Breakfast is served.
Salmon - an excellent source of omega-3 fatty acids. Poach, steam or bake salmon with the skin.
Dogs especially love the skin. Sardines - (wild caught, packed in water) are loaded with omega-3 fatty acids and coenzyme Q10 (CoQ10). Fatty acids can help to avoid cancers and reduce inflammation, while keeping the immune system in check.
CoQ10 boosts circulation and heart function. I reserve the liquid and add it to their morning meal. When the cat sees me get the sardines (large oval can), he waits for his share - a couple bites.
A lot of ideas here, but when/how to serve them? Our pack gets breakfast after they go outside first thing in the morning (by 7 am). I usually offer one or more of the above (a grain, a protein and a veg/fruit). They go to the park or on main walk/swim, by 9ish. Around 3 pm, they get their main meal. This avoids them being underfoot while our dinner is underway. They have useful energy from the calories of their main meal to expend. Bonus: they do their "business" on the walk. I do not add anything (maybe fish oil) to this kibble meal. The food is already balanced, don't alter the protein combination.
STOP MICROWAVING!
You're risking carcinogens being leached from the plastic, destroying nutrients, damaging the proteins and possibly oxidizing oils. Add a little warm water to the food, if you must and serve. Bone Appetit!
Tina Valant-Siebelts is a confirmed dog-o-holic, mom to many rescued pets, who volunteers with numerous organizations. To "fill all those dog bowls," Tina is an award-winning photographer, writer & event coordinator. www.HaveDog.com
Golden retreiver Max came into rescue, with 20 extra pounds. He's in a wonderful new home, and on lite kibble. He gets treats of baby carrots, green beans and a couple spoons of canned pumpkin in the evening. Special thanks to www.Chesed-Rescue.org