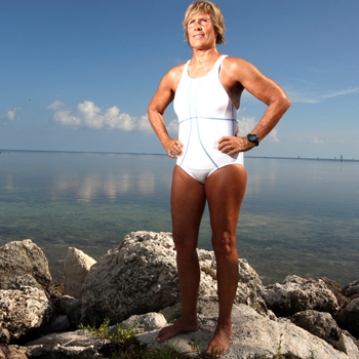 Why we should never give up
www.natalievon.wordpress.com.
An anniversary usually gives reason to celebrate, but this anniversary is s o l e m n a n d reminds us of a heart-breaking tragedy. In the month of October, it is exactly one year since hurricane Sandy hit New York and set a whole city into shock and its inhabitants in tears. Yet, one woman has made it her priority to fight for those who are still suffering from the damage that was left by hurricane Sandy.
After setting a world record for swimming from Cuba to South Florida in 53 hours, just a month ago, long-distance swimmer Diana Nyad already has another challenge lined up. From October 8 to 10, Nyad swims for 48 hours in New York City's Herald Square to benefit AmeriCares and Disaster Relief.
P&G brands such as Duracell, Tide and Secret are underwriting all production costs for the "Nyad Swim for Relief", maximizing the donated funds that directly support Sandy recovery activities.
To recap: On October 22, 2012, Hurricane Sandy developed into a tropical storm in the Caribbean Sea and quickly turned into a Category Three. In the stretch of ten days, at least 286 people were killed by the storm in seven countries. Severe widespread damage was estimated to be over $68 billion.
Hurricane Sandy was ranked as a Category One when it hit in New York on October 26, 2012 with wind gusts of 80 mph. Immediately, large parts of the city and surrounding areas, buildings and seven subway tunnels under the East River flooded leaving a massive amount of damage behind. Public schools, universities and even the New York Stock Exchange closed for several days while numerous airlines cancelled flights. Manhattan suffered a widespread power outage during the storm leaving thousands of homes without electric service at the peak of the storm. On top of that, not only houses, but also hospitals and other public places were evacuated. Altogether, more than 50 people died in New York as a result of the storm.
Over the past year, AmeriCares distributed more than $6.4 million in aid to help survivors, including $3.5 million for medicine and relief supplies, and $2.9 million in grants to community organizations that provide services such as storm clean-up and mental health counseling.. But there are still many people who are in need for help.
Therefore, Nyad will swim for 48 continuous hours in the heart of New York City to raise funds for the AmeriCares Hurricane Sandy Relief Fund.
Swimming for such a copious amount of time takes enormous mental, physical and emotional strength; yet, every stroke is worth the physical endurance. In an effort to help the disaster recovery program, Nyad's pursuit reflects that even the biggest challenges can be overcome.
Just one month ago, Nyad made history when she swam a length of 100 miles from Cuba to Key West in 53 hours. Nyad attempted this journey four times before but never completed it—even with the aid of a shark tank. Finally, Nyad set the world record on her fifth attempt without using a shark cage.
Despite a jellyfish suit—a thin nylon covering that shielded her from the venomous marine creatures—she still suffered from jellyfish attacks. Yet, Nyad did not give up and continued all the way to the end until she reached the shores of South Florida and walked on dry sand.
Despite her world record, Nyad does not intend on giving herself a break. She is ready once again to put her body under tremendous pressure in order to support a great cause.
Making donations, raising funds, and repairing what had been destroyed has made a significant improvement in the lives of many people who were affected by the tragedy. However, it is important to continue to support the victims of this natural disaster. By swimming for 48 hours in the heart of New York City, Nyad will reach a milestone and show the world that it is possible to overcome the impossible.
There are many ways you can help those who still suffering from the devastating effects of Hurricane Sandy. You can make a donation to AmeriCares Sandy Relief Fund at http://www.crowdrise.com/ SwimForRelief. Another option is to join a team or start a new fundraiser through CrowdRise. Whether running a marathon, giving up your birthday for charity, doing a tribute, or volunteering on weekends, you can make a real impact. If you seek to be close to the action, do not hesitate to join and cheer on Diana Nyad in New York City on October 8 to 10, or support her with words of encouragement using the hashtag #SwimForRelief on her social media sites.