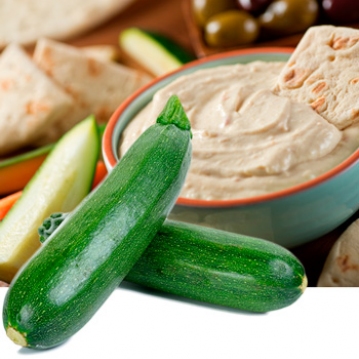 Do you ever get gassy or feel bloated after eating beans?

Are you cutting your Carbs?
Zucchini Hummus is a fantastic way to skip those Carbs and experience a lighter rendition of traditional hummus. Light on the waist... Not on the taste!!!
Prep time: 5 Minutes
INGREDIENTS:
- 2 cups Zucchini (unpeeled, diced) approx 2 zucchini

- 1/2 cup freshly squeezed lemon juice
- 1/4 cup olive oil
- 3/4 cup tahini

- 1 clove garlic
- 2 teaspoons cumin

- 1 1/2 tsp sea salt (to taste)
PREPARATION:
Blend all ingredients until smooth in a food processor or Vitamix. Serve with pita, crackers or vegetables of your choice. Also nice as a spread on sandwiches or toast.
Makes 3 cups

• Fresh for up to 5 days in the refrigerator