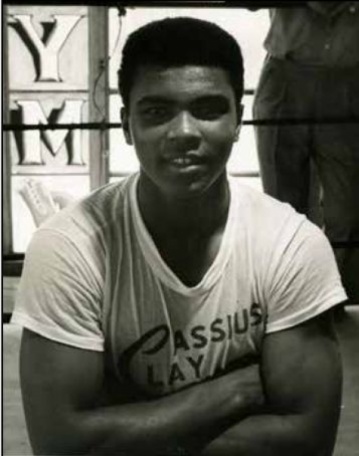 Muhammad Ali was the three-time champ but few may know his road to glory began in South Florida.
By now you probably know that Muhammad Ali passed away from complications of Parkinson's disease. The style, the voice, the movement, all robbed from him by a lethal combination of age and too many punches. Still, anyone who ever saw Muhammad Ali fight – or had the privilege of meeting him – will never forget him not only because of what he did, but for who and what he was.
He was born Cassius Marcellus Clay, Jr. and raised in Louisville, Kentucky. If you're an Ali fan you know the story of how it all began. How he, at age 12, had his bike stolen; how he told police officer Joe Martin that he was gonna "whup the sucka that took my bike" and how Martin, instead, convinced him that learning to box was a smarter endeavor. Fortunately, for all of us, young Cassius listened to the cop.
Fast forward to 1960 and the brash American is now competing in the Rome Olympics, winning the gold medal in the process. When he came home, young Mr. Clay (he would not convert to the Nation of Islam until years later) turned pro and was sponsored by a Louisville consortium of businessmen to launch his professional career. To train the young contender, the decision was made to select Angelo Dundee of Miami Beach. So young Cassius traveled by train to Miami, arriving in December 1960; he would make South Florida his home until he became the champ. While living down here, Ali would hone his skills, but he also became a part of the community, living in Overtown, shopping there, eating there and – yes - first becoming exposed to Islam, which would later change his – and by extension – our lives.
On February 25, 1964 the young Clay stepped into the ring to fight Sonny Liston, by then a feared and menacing man with a background to match (think a combination of early Mike Tyson/George Foreman). Yet, by the early rounds the challenger was clearly too big, too strong and too fast for the champ; so much so that big, bad Sonny quit on his stool before the 7 th round. And so began the odyssey we now know by heart: Cassius X/Muhammad Ali, the Phantom punch, undefeated champion, the refusal for induction, exile, Fight of the Century, Rumble in the Jungle, Thrilla in Manila, the first three time champion before eventual retirement. Along the way there would be four marriages, nine children (possibly more) and countless other memorable moments, but all of them had their genesis in Miami Beach, when that 18-year old kid stepped off the train and into history.
He wasn't perfect, by any means, but what he was changed the conversation in our nation forever - about Vietnam, about race, about us. He was a product of his times, and now our memories will insure that his star will never fade.
So long, Champ. Thank you.
---
Mark Tudino is an attorney with offices in both Miami-Dade and Broward counties, whose practice specializes in all areas of civil litigation. He has lived in South Florida for more than 20 years. Prior to attending law school, he was a political and sports reporter for television stations across the country. His career allowed him to cover everything from presidential elections to national championship sports teams, and he still maintains a passion to observe and discuss the world of sports. Attorney at Law. 954-983-8000. 3475 Sheridan Street Suite #211. Hollywood, FL 33021.