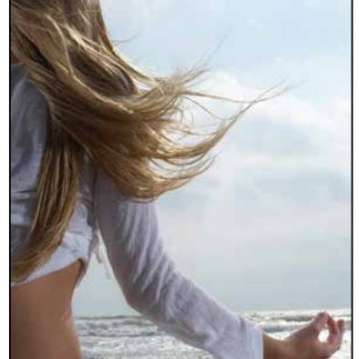 The title of this column is a question that Glinda, the Good Witch of the North, might have asked Dorothy Gale from Kansas in The Wizard of Oz. Since she didn't, I'll ask the question of you: Are you a big Self or a small self?
Last night, I was watching the recent CNN profile of James Arthur Ray, who's back leading empowerment programs after two years in prison for negligence at an Arizona sweat lodge during his Spiritual Warrior intensive. James is a terrific teacher; I know because I took one of his programs. But as I watched excerpts of him teaching again last night it dawned on me that what he's really teaching is an empowerment of the small self. By that I mean the strengthening of the individuality of each person in attendance. And that, of course, is a great thing. The Breakthrough Coaching work that I do does similar things. And all of that is very much needed in our disempowered world.
Coaching, and empowerment workshops like James', like the Forum, like est, and like the Loving Relationships Training, to name a handful, all empower their participants in a variety of valuable ways.
They empower the small self, the individual, but they rarely touch the big Self, or the Universal in their students.
A meditator since the age of 17, a teacher of Transcendental Meditation since the age of 20, and the founder of Higher Self Healing Meditation, which I introduced in 2010, it's clear to me that meditation has a totally different purpose. That purpose is to awaken the big Self. It also happens to empower the lower self in a number of priceless ways as well, such as increasing an individual's creativity, energy and peace, while decreasing stress, tension, and anxiety, in addition to many unhealthy habits.
So What is the Big Self? Good question. The big Self is not afilled with qualities like the small self. The big Self doesn't promise that you can be more aware like empowerment seminars do because the big Self is Consciousness itself - unbounded consciousness to be precise. And it doesn't expand consciousness because you can't add to that which is already infinite.
The big Self doesn't purport to make you more creative because It itself is the pure field of Creative Intelligence out of which all creativity flows. And it doesn't promise it will make you happy, because the big Self is already Bliss Consciousness itself, and it doesn't speak. What's more, it doesn't say that you'll be more of an energetic go-getter, the way that such workshops advocate, because your big Self doesn't do any speaking; in fact, it doesn't do anything. It just Is. Your big Self is pure Existence itself.
Another way of saying it is that empowerment programs and life coaching, for example, concern themselves with making a difference in the way that you think and act. Meditation concerns itself with making contact with your inner Being so that you can have the experience of just being, an experience that is beyond doing, perceiving, thinking and feeling. In the same way that improving the way you think enriches what you do, thereby creating greater achievements and fulfillment, connecting to the experience of just Being enriches the way that you think and act.
There are three fields of life - Acting, Thinking, and Being. Contacting the field of Being creates a holistic, across-the-board set of benefits in every aspect of your life in much the same way that watering the root of a tree enriches every aspect of the tree's life - from leaves and fruit to bark and branches. Said yet another way, empowerment workshops and life coaching are directed at improving you as an individual. Meditation is directed at awakening the Universal in you.
This column isn't intended in any way to invalidate empowerment workshops or life coaching - both of which I myself offer - but to simply point out as clearly as I can that there's a transcendental foundation for both of them that exists silently within you at every moment in time so that you can contact it through meditation and gain additional benefits to what both of these fabulous programs already provide. Combining meditation with empowerment programs and life coaching creates a life truly worth living, one that not only achieves a great deal and develops fulfillment, but one that awakens spiritual enlightenment as well.