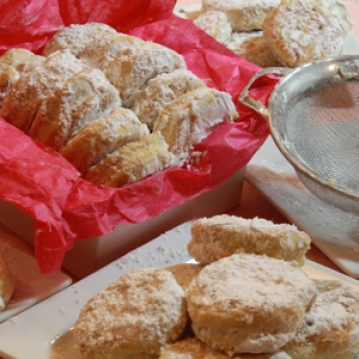 (5 dozens)
Ingredients
5 ¾ Cup (800 g) All-purpose flour

1 tsp Baking powder

8.8 oz (250 g) Unsalted butter, melted
1 Lemon (finely grated zest and juice)
4 Tbsp Sugar

4 Tbsp Water

1 Cup Vegetable oil

1 ½ Cup Confectioners' sugar
Preparation
Sift the flour with baking powder.


On the working surface, make a volcano with ¾ part of the flour; add butter, lemon juice, lemon zest, sugar, water and vegetable oil. Mixing all the ingredients by hand.


Use a plastic or metal scraper for manipulating the dough. Continue adding the rest of the flour and knead by hand with gentle motions. Slowly push the dough away from your body with the heel of the hand for about 10 minutes. Push, turn and fold the dough until it is soft and bright. Make a ball.


Preheat oven to 325 degrees.


Cut the dough in half. Roll out the dough, starting with the pin in the center of the disk, roll it away from you, toward the far edge. Continue turning and rolling until the dough is ¼ inch thick. Cut with a pastry cutter of 1 ¾ inches round.


Place the cookies on a tray lined with parchment paper.


Bake in the preheated oven for 20 minutes. Take out the cookies from the oven, place in a bowl and, while they are still hot, sift confectioner's sugar over them until they are well coated. Continue with the rest of the dough.
Note: Prepare the cookies one or two days in advance. Keep them in a glass or stainless steel air container.