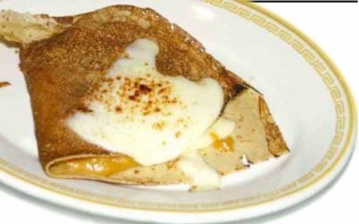 Thirty-one years ago, Le Val de Loire opened its doors as a traditional French restaurant, featuring a casual French countryside atmosphere in Deerfield Beach in the Cove Shopping Center. Five years ago, a man who had spent 20 years in France learning his craft with some of the finest chefs French came to America at age 35, worked at "Les Halles" in Coral Gables for many years bought the Le Val de Loire restaurant. Today Chef Fabrice Laurent has transformed this restaurant into one of the finest French restaurants around. The interior makes you feel as if you were in Paris, the aroma of French cooking is in the air, the atmosphere is clean and fresh, and the service is spectacular.
The menu offers several options to choose from: Sunset Dinner, A la Carte Selections, Complete Gourmet Dinners, Crepes Festival, Mussels Festival, Specials of the Day, and, of course, Dessert. Trying to sample everything in one sitting is difficult but not impossible. For an appetizer, try the Seafood Crepe ($14.95) split for two if you like, bite-sized shrimp, scallops and mussels swimming in a tasty lobster sauce enveloped in a crepe and topped with Swiss cheese. If you'd like something lighter to start, try some of the tasty hot soups, maybe a cold Vichyssoise, some Escargots, Foie Gras or perhaps an Endive Salad. Just remember to leave room for dessert.
For the main course you must have the Filet Migon au Poivre ($24.95), an ever-so-tender filet cooked to perfection and topped with a Brandy Demi-Glace and Peppercorn Sauce with mashed white and sweet potatoes. It is far one of the finest steaks anywhere in Florida. Another hit is the Rack of Lamb Provençale ($26.95), several oven-roasted baby lamb chops covered in a tasty herb juice with mashed white and sweet potatoes. Also on the menu is a splendid sautéed cabbage that is so sweet and tasty that you'll ask for more. Other specialties include Beef Bourguignon, Chicken Mascotte, Frog Legs Provençale, Roast Duckling L'Orange, and a wide variety of mussels, crepes and much more.
When in a French restaurant, one must always have a dish that is lit on fire, and the Crepe Suzette ($7.95) is not only eye-catching but delicious. The Suzette is a crepe made with an orange juice, butter and sugar mix that is flambéed at your table with Grand Marnier. This is so sweet you'll clean your plate. Another favorite is the Fraise Romanoff ($6.95), a glass of vanilla ice cream surrounded by fresh strawberries, covered in Grand Marnier and topped with whipped cream. Some other favorites include Crème Brulee, Mousse au Chocolat, Peach Melba and Banana Foster. Remember, I said to save room for dessert.
Le Val de Loire Restaurant is open for lunch and dinner with catering services also available.