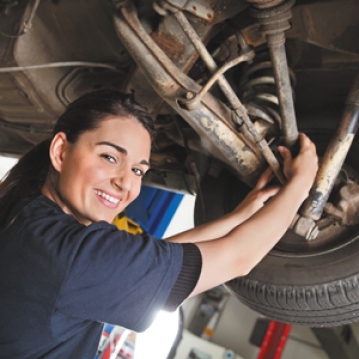 I am always pleased when I see how a challenging repair turns into cost saving for the customer. Recently, I was asked to replace the front CV joints or half shafts on a 2000 Isuzu Rodeo. There are still many on the road today, but the company has since stopped making this vehicle. You would think that changing the CV joints would be a relatively simple job, considering what it involves. Every time when I hear these words together, Rodeo and CV joints, my hair would begin to curl.
If you have ever worked on one, you would know why. If not, then let me explain. In order to remove the CV joint on a Rodeo or even on a Honda Passport, similar in design, you must remove the frontend component like with most cars. But the kicker here is there is a plate that holds the CV joint in place against the transmission: four bolts in front and one on each side facing upward. Once you have it all loose, the plate is too large to fit through the opening of the control arm. The easy way would be to open the inboard boot and remove the retainer clip holding the shaft to the housing. This allows the axle to separate, and then all components can be removed. Sounds simple right? Well, the new axle comes complete, making it difficult to reinstall.
Recently, aftermarket companies now offer the half shaft with or without the inboard housing. These parts are new products, and if you choose the one without the housing, which I r e c o m m e n d , t h e n installation is a snap. You will receive a new clamp and grease, which must be installed. Re-install the axle the same way by placing the grease around the bearings, then inside the housing. There is already a new CV boot on the shaft. Slide it into place, install the clamp using the proper clamp tool and you're done. Install all of the front-end components, and you are ready to hit the road again. The shafts are relatively inexpensive, but you do need the proper tools and lifting equipment for safety. If you have never done it before and are planning to attempt this challenge, make sure you are prepared. Otherwise, have a mechanic perform this repair. Plan to get dirty with this job. Happy Motoring.
Happy Motoring