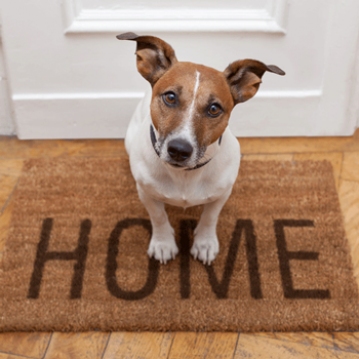 Prepare for, fetch and welcome your Furry Bundle of Joy
You've just received the call that, "You are approved to be (fill in pet's name here) new family"!
You passed the application, vet/reference checks and a home visit and were deemed the best match for (pet's name). Congratulations on (what hopes to be) a lifetime of unconditional love. We can't promise there aren't going to be some bumps in the road… like housetraining, behaviorial issues and some general "getting used to each other". Set yourself (your family and your new addition) up for success. Most of this is dog-oriented, but cats can benefit, too.
Prior to fetching your new pet, go through your home, again. Make sure small items (ie: electronics, remotes) are out of reach, and breakable items (like figurines on a coffee table) are secure, move as needed. Review with the entire family that this pet requires everyone's love, care and attention. Even a small child can check to see the pet has fresh water or accompany an adult on a daily walk. Decide on and prepare the pet's feeding/water area. Find the appropriate place for the dog's crate (most behaviorists and trainers agree it's best).
Your pet's Bark Day* arrives.
For a small dog or cat, bring a travel kennel or crate. If a crate isn't possible, due to vehicle or pet's size, bring a nonslip collar or harness, ID tag with your name and phone(s) and regular (NOT retractable) leash.
The shelter/rescue doesn't always provide them, and this will show you are responsible and prepared. All family members should attend, so everyone is aware of the pet's likes, dislikes, diet and any special needs.
Realize the pet may have lived at the shelter for awhile, so this will be a big change. Make this a smooth and comfortable transition, as pet learns the family's schedule, along with what is expected of him/her.
The first two weeks are crucial, and referred to as "the honeymoon period". These tips will help you navigate:
ANYTHING can happen.
Always err on the side of caution, better safe than sorry.
Animals are individuals. Just because your previous pet (insert behavior here), doesn't mean this one will, too.
Be patient. This is an adjustment for everyone. The pet can't communicate in words.
If you have a current pet at home, talk to the adoption counselor on properly introducing and acclimating them. Remember that pet was there first, and deserves love, care and attention too.
Maintain a calm environment.
Give the pet time to adjust to their new home, family and routine.
Establish routines for feeding, training, house rules (ie: no feeding from the table), walking, cleaning, play time, sleeping, etc. Assign duties to family members as needed.
Limit the pet's range, by keeping bedroom and bathroom doors closed, unless you go in those rooms and can supervise. Toilet lids are to be closed when not in human use.
Being in a multi-dog household, I leash the new dog to me, especially the first few days. They have to earn my pack's trust.
Keep the pet on whatever diet she/he has been on, at least the first week or so.
Make an appointment with your vet to establish a file and introduce them. If you need a vet, ask for recommendations.
Don't take the new dog** to an event or dog park the first few weeks. Make sure the dog has good recall (comes when called), and is confident and stable in his/her behavior with others (two and four legged). ** Especially puppies under 16 weeks old, they have not had all immunizations.
Keep in touch (not only at the holidays) with the rescue, shelter, foster family or humane society. Happy stories, photos and updates are the fuel that keeps us doing what we do.
*In rescue and adoption, we often refer to adoption day as the pet's "Bark Day", since we often do not know the pet's actual birthday. Bark Day is celebrated every year, and usually with a special treat — just like a birthday!