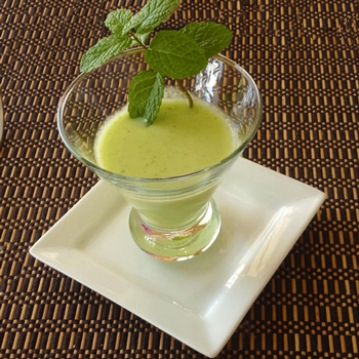 Ingredients
• 1 Honeydew (melon), ripe
• Fresh juice of a one lemon
• A pinch of freshly ground black pepper
• A few drops of Tabasco (to taste)
• 2 Tbsp Extra virgin olive oil
• 5 Big mint leaves
• Kosher salt (to taste)

Preparation
1. Peel and take off the seeds in the honeydew, then cut into pieces.
2. Place the honeydew, the fresh lemon juice, freshly ground black pepper, drops of Tabasco, olive oil, mint leaves, and the salt in a blender. Beat it very well.
3. Taste mixture and add salt and Tabasco to taste.
4. Place in the refrigerator for 20 minutes.
5. Decorate with some mint leaves and serve.
Note: Generally it is not necessary, but if the mixture is too thick, add a little drinking water.