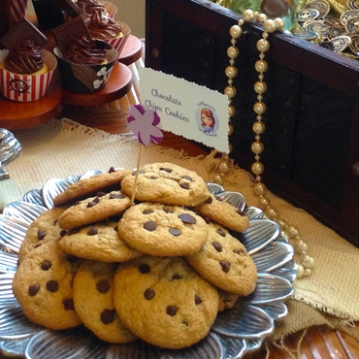 (2 dozen of cookies)

These killer cookies are an essential to have in your recipe selection. Chewy and moist decadency will bring you back to your favorite childhood memories.
INGREDIENTS:

• 2 1/2 sticks of unsalted butter
• 2/3 cup brown sugar
• 1/3 cup granulated sugar
• 1 tsp vanilla extract
• 2 large eggs
• 1 2/3 cup all-purpose flour
• 1 tsp baking soda
• 1 tsp kosher salt
• 1 cup chocolate chunks
DIRECTIONS:
Preheat oven at 350 degrees F

In a mixer beat the butter until white and creamy. Then add the sugars, one at a time, and beat until both are incorporated. Add the eggs and vanilla until well incorporated. Sift the flour, baking soda and salt. Incorporate them into the egg mixture. Once the dough has come together, incorporate the chocolate chunks with a wooden spoon. Scoop the cookie dough and bake for 8-10 minutes, or until golden brown. Once out, let them set for two minutes and then move them onto wire racks or porcelain plates to cool completely.
Tip: If you want a more picturesque look, insert some chunks to the surface of the cookie immediately after taking them out of the oven. Then let them set as normal.