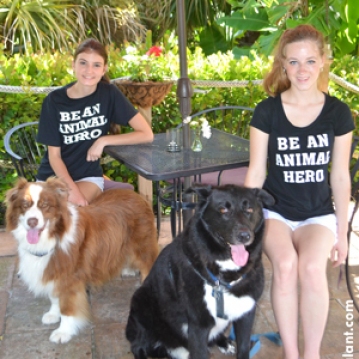 Last week, I got a frantic call about a large purebred dog in need of a new home. "Sally*" was a friendly, likeable type and not yet a year and a half old.
"Gets along well with other dogs and cats, good with kids," stated the caller. Sally was UTD (up to date on vaccines) and already spayed. This would be an easy one I thought. She was being surrendered because the owners had a new baby. She was getting depressed and overweight because she was spending more time in her crate, than out of it. The owners felt she was getting jealous of the new (two legged) arrival, and would try to nudge them when the baby was being held or cared for. They thought they'd be able to juggle Sally and the family addition, but were in a state of overwhelm. They had asked friends and family if they could take Sally….with no luck. They called the breed rescue. They were full. They would not take her to the shelter….and somehow found me. I met and evaluated Sally the next day. This sweet girl was so happy to see a new person, who smelled of and spoke dog. I took her for a long walk, and told her to hold on; help was on its way. It was sad to leave her.
I made several calls and launched a barrage of emails, scavenging for a home (permanent or temporary). The rescue angels worked their magic---by the morning, we had a place. A friend had a friend who had been looking for this breed, at least a year old to assess/train to be a seizure alert dog for a young boy. JACKPOT! If Sally tested favorably, not only would she be a cherished member of the family, she'd also have an important job! I was beaming. I called the owners with the great news and made arrangements to pick her up.
About an hour before I was to fetch and transport her, the owner called. "We decided we can't give her up". My heart sank. I witnessed how she had been living, and was told "we don't have the time or energy she deserves, with a new baby".
To achieve and maintain optimum health, earthly bodies have minimum daily requirements, not only nutritional necessities, but vitamins of the soul. For your dog, this translates to at least one daily walk (distance and pace varies with the dog's breed, age and health), quality play time (brain stimulation, training, obedience, games), patience and lots of love.
* name changed