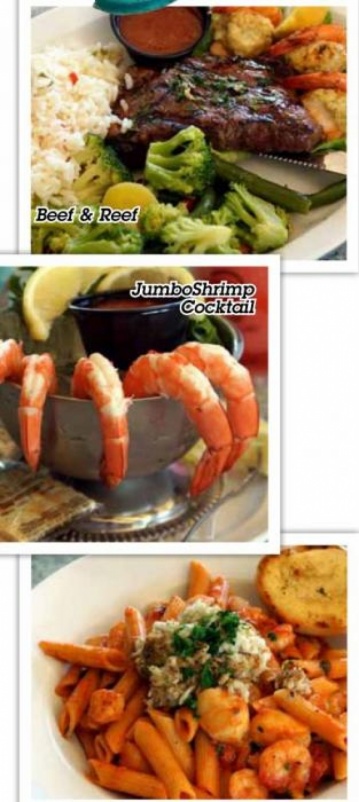 Waterfront Restaurant, Lounge and Sports Bar
Review by Rocco A. Quaglia
Welcome Boaters and Land-lovers alike to Boynton Beach's 1957 Landmark Eating and Drinking Waterfront Destination Two Georges Waterfront Restaurant, Lounge and Sports Bar in Boynton Beach. Sitting on the West side of the Intra-Coastal Waterway just North of Boynton Beach Blvd you'll find this paradise lost. Owner Steve Scaggs completely renovated this fine jewel in 2001 so that you may enjoy the gentle breezes as you watch the boats pass by while sipping on frozen tropical drinks as in days gone by. It's time to relax and savor the freshest of seafood and local fare as GM Kevin Kudlinski and his fine staff make you feel right at home.
Two Georges offers wine, ice cold beer and a full liquor bar in order to quench your thirst on any day. Frozen tropical drinks are a must, as the selections are plentiful and delicious.
If you like it sweet, try the frozen Miami Vice—a mixture half Rum Runner and half Pina Colada topped with cherry and slice of orange. Thinking of something with a little tang, try the frozen Blueberry Lemonade, a Bacardi and lemonade delight.
For appetizers the Seared Tuna ($10.99) is made to perfection, 4 oz. of thinly sliced fresh tuna tossed in a sesame seeds sauce, seared just right, and served over rice with wasabi and fresh ginger. Whether you use the chop sticks or a fork, the taste will be forever in your thoughts. Another great crowd pleaser is the Jumbo Shrimp Cocktail ($10.99), 5 jumbo fresh shrimp served with tangy cocktail sauce. Some others favorites include fried calamari, Bang Bang shrimp, coconut shrimp, Mary's conch fritters, smoked fish, crab and spinach dips.
For Entrees you must try the Seafood Penne ala Vodka ($19.99), this superb blend of sautéed fresh sea scallops, baby shrimp and lump crab meat served with penne pasta will delight every one of your tastebuds. It's made with a very tasty blend of tomato sauce, cream, garlic, vodka and fresh seafood mixed with penne pasta. The Beef and Reef ($27.99) is offered in several varieties, the best combo is an 8 oz. tender choice steak and 3 crab stuffed fresh jumbo shrimp served with rice and fresh vegetables. This dish is simply tender, delicious and filling too. Two Georges offers a wide variety of fresh seafood daily, including dol phin, tuna, grouper, salmon, crab, shrimp and others. They also offer several tasty seafood salads and some mouthwatering seafood and traditional sandwiches, too. Check out their entire menu and all the specials online at www. TwoGeorgesRestaurant.com

Make sure you leave room for dessert; the Key Lime Pie ($5.99) is tasty and tangy just as it should be. When accompanied by their freshly made cream, it's even better. If you want something really different, try one of the Assorted H a n d D i p p e d Frozen Bananas ( $ 4 . 9 9 ) . T h e i r accompanied by their freshly made sweetened cream and chocolate syrup, that'll put a smile on your face as you dream about being a kid again.
So whether you come by boat or by auto, you're sure to enjoy Two Georges Waterfront Restaurant, Lounge and Sports Bar in Boynton Beach. It's easy to get to and fun to be at. Hope to see you there soon!