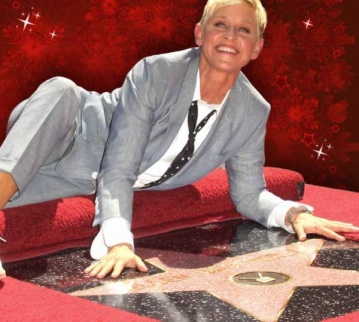 A writer, Huffington Post blogger, radio talk show host and motivational speaker. Listen to Liz's radio show and inspiring celebrity interviews at SterlingSpin.com
Never follow anyone else's path, unless you're in the woods and you're lost and you see a path; then, by all means, you should follow that path," Ellen DeGeneres said. I think she was half joking, half serious.
December is often a time for reflection and review. What choices have we made? What path have we followed? Have we been authentic; living our passion and allowing the voice of our inner guidance to lead? Sometimes we feel lost and out of sorts. Other times, we're on that proverbial high road that makes all of life worth living. To paraphrase what Ram Dass once said, Let all of life's experiences be grist for the mill.
Use it all, chew on it, and extract the nectar to learn, grow and love.
Ellen DeGeneres is using every ounce of her life to flourish, and she exudes love by living her joy and standing up for what she believes in. Nothing will hold her down, and this month, in featuring Ellen as our celeb rity interview, I am clear that it is better to be true to ourselves and to take risks, than to walk a path that inhibits our ability to shine as bright as the Chanukah Menorah and Christmas lights.
DeGeneres was born in Metairie, Louisiana, a suburb of New Orleans. She attended the University of New Orleans as a Communication Major, but dropped out after one semester. She held a variety of jobs until she turned to stand-up comedy, working at small clubs and coffeehouses before achieving success. Beginning in the early 1980s she toured nationally, and was named the funniest person in America after winning a competition sponsored by Showtime. This led to better gigs, including her first appearance on The Tonight Show Starring Johnny Carson in 1986. "I just like observing people. It's something I've done ever since I was a kid," she said, "and I got really good at it. That's a big part of why I became a comedian. My audience is filled with every kind of person you can imagine, and I love that."
Yet Ellen is more than just a stand-up comedian. Also to her credit you can add television host, actress, humanitarian and advocate. As a film actress, she pro vided the voice of Dory in the Disney-Pixar animated film Finding Nemo, for which she was awarded the Saturn Award for Best Supporting Actress, the only time a voice performance has won a Saturn Award. Look for Ellen to reprise her role in the sequel, Finding Dory. I remember her as a judge on American Idol in its ninth season and she was outstanding. DeGeneres also hosted the Grammy Awards and the Primetime Emmys, but her all-time dream come true was actualized when she hosted the Oscars in 2007. It will be DeGeneres' second tour of duty as Oscar host at the 86th annual Academy Awards on March 2, 2014. Ellen has high aspirations for her second time around, she recently commented at a Toys for Tots charity event in Los Angeles."It reached the world," the talk show host said of her well-received 2007 Oscarcast. "And I'm trying to get world peace. So, that's my goal. My hope is by hosting the Academy Awards, right afterward, we have world peace."
As host of the syndicated talk show, The Ellen DeGeneres Show, since 2003, Ellen has garnered huge accolades and loyal fans, in addition to thirteen Emmys and numerous other awards for her work and charitable efforts. She is something special, and walks her talk as an ethical vegan who calls herself a "big animal lover". Her wife, Portia de Rossi, is a vegan as well. On her website, under Ellen's picks, the Healthy Living section offers an array of options for vegan recipes. Be sure to check it out during the holidays for alternatives to the traditional fare. http:// www.ellentv.com/recipes/ healthy-recipes/ Recently, The Petco Foundation joined Ellen and her natural pet food company Halo, Purely for Pets, to announce a new grant campaign designed to make holiday wishes come true for some of the nation's most dedicated non-profit animal-welfare organizations. The Ellen DeGeneres Show will announce the winning animal-welfare group - who will earn a $100,000 grand prize grant to support their work to save animals - this month.
Ellen often takes personal time to reflect on even larger issues that we all ponder. She revealed a bit about her deeper beliefs. "I look at anything in nature and how things work - the stars, the pyramids - and I can't imagine that there's not some kind of design to it all. There's got to be something big that we don't understand. Life is about spending our time here contributing and not taking away. I believe in being good to one another. That's my faith, so go ahead, find out who you are and be that person. That's what your soul was put on this Earth to be. Find that truth, live that truth and everything else will come."
Old Irish Blessing for the New Year
May the road rise up to meet you.
May the wind always be at your back.
May the sun shine warm upon your face, and rains fall soft upon your fields.
And until we meet again, May God hold you in the palm of His hand.
Happy New Year – 2014 – Love, Liz