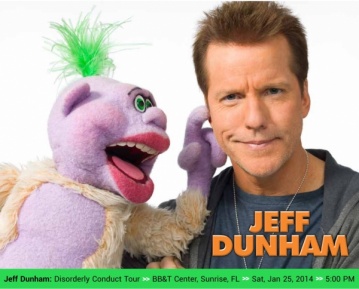 His television specials and series have been the highest rated programming in Comedy Central history, his DVD sales have reached seven million units, his videos have received a half a billion views on You Tube, and his live concerts have become mega-events played in front of sold-out arenas worldwide.
No wonder Time Magazine wrote he is "the most popular comedian in the United States" and Forbes named him to its Celebrity 100 list of most powerful entertainers three years running.
Jeff Dunham has, of course, plenty of help on-stage: his entourage of signature characters who are there to challenge and chastise his every sentence. There's Walter, the grumpy retiree; the beer-swilling, NASCAR-loving and resolutely red neck Bubba J; the furry and manic Peanut; José Jalapeño, the spicy pepper from South of the border; the bumbling skeletal Achmed the Dead Terrorist; the almost as dead long-lost son of Achmed, AJ; and Peanut's own ventriloquist dummy: Little Jeff. They may have all been conceived by Dunham, but his characters, who are anything but dummies, have now taken on a life of their own, each with their own legion of fans. Jeff builds his own puppets, and commented, "Usually I would take the clay head, make a silicone mold or a plaster of Paris mold, then put some sort of material in there to make the actual shell," Dunham says. "Now all I have to do is hit print." The model prints in "abs" plastic. He says he likes painting the plastic sculpture the best because it brings the character to life.
Dunham's fascination with ventriloquism began at age eight. It was his parents who gave their son a toy Mortimer Snerd dummy and an accompanying instructional record album. By the time he was ten, Jeff was performing anywhere he could find an audience.

When asked, "Where do you draw inspirations for your characters and how often do you try to introduce a new one?" Jeff replies, "The inspiration comes from just living life, none of the characters have a similar genesis. Ideas come from different places. The only thing that´s similar is that when something strikes me as being a good character and one I could really write some good material for, then that´s what I go with. I try to come up with something every year or two. There's a whole bunch of characters that have come and gone. But I keep the main guys. Our newest and youngest cast members are Achmed Jr, better known as AJ, and Little Jeff."
The Jeff DunhamCharity
Jeff Dunham donates a dollar from each of his concert tickets to local charities as he tours the country, in appreciation of the loyal support of his fans in the communities he visits. Jeff directs his charitable efforts to those in need, both in crises and over the long term. 71 percent of his contributions go to local food banks, 11 percent to The Red Cross, and the rest to miscellaneous charities. Over the previous year he has contributed nearly half a million dollars. Jeff urges those in his audience that are able to do so to remember and help others who are less fortunate.
Today, Dunham's global appeal is undeniable. He was named top-grossing live comedy act in the world by Pollstar, the concert industry trade magazine. He has sold-out stadiumsized shows across three continents, from the United Kingdom to Sydney, Toronto to Copenhagen. He sold-out an 8,000 seat hockey arena in Helsinki, Finland on Easter Sunday, and Dunham doesn't speak a word of Finnish. Or Swedish. Or Norwegian. Or Afrikaan, which are the official languages of some of the countries he has visited. There is universal appeal to Dunham's relationship with his characters that transcends any small gaps in language translation. Jeff often works with four dummies simultaneously, throwing his voice from one to the other so quickly that he is able to engage them in an argument with material that is clever and sophisticated Just as Dunham has maintained full control over the world of characters he has created, he has built an independent company that produces and finances all Dunham projects across all distribution platforms, including live, television, film, merchandise, and home video. He maintains a highly interactive relationship with his fans via JeffDunham.com and many social networking platforms, including over 8 million fans on Facebook.
As an entertainer, Jeff Dunham has truly impacted popular culture, and his character catchphrases are now part of our vernacular, much to the delight of multigenerational audiences worldwide.