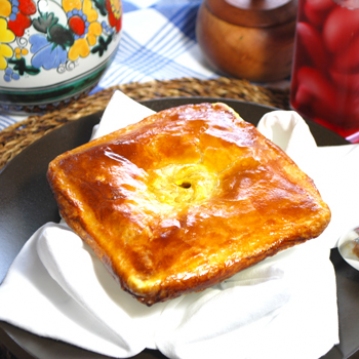 Ingredients
2 tbsp extra virgin olive oil 1 small onion, finely chopped 1 garlic clove, minced 2 small carrots, small diced 4 oz. ham, smoked or normal, diced 3 oz. fresh spinach, final chopped 300 gr. steamed chicken, roasted or cooked, diced 1/2 cup white wine 1 cup béchamel sauce (see SALSAS) 1/2 cup milk 3 tbsp Parmesan cheese, grated kosher salt, fresh ground pepper, to taste 4 sheets of puff pastry 1 egg, beat (egg 1 tbsp water 1/4 tsp sugar) to brush the puff pastry
Preparation
1. Heat up a large pan, add olive oil.
2. Add the onions and garlic and sauté them.
3. At medium heat, add the carrots and cook for 2 minutes.
4. Add the ham and cook for 1 minute.
5. Add the spinach and sauté for 2 minutes.
6. Add the chicken and mix. 7. Add the wine and mix at medium heat. Let the wine reduce for 2 minutes.
8. Add the béchamel sauce and milk, mix at medium/ low heat for about a minute.
Add the parmesan cheese and mix.
9. Taste and add the salt and pepper.
10. Turn off the heat and check the consistency, should not be too thick. In case it is, add a tbsp (at a time) of milk until it reaches a creamier consistency.
11. Distribute the mixture between four oven-proof bowls. Put aside.
12. Preheat oven to 400 F 13. On a working surface, add flour to it and place the puff pastry sheets on top and work them out (make sure that they are not frozen, otherwise they will break). Cut them an inch bigger than the bowl to prevent shrinkage.
14. Brush the borders of the bowls with the egg mixture and place the pastry on top of the bowls. Cut an opening around the center of the pastry, like a pie, to let the vapor escape.
15. Brush the entire pastry with the rest of the egg mixture. Place all the bowls on a baking sheet. Bake in the oven for 30 minutes (if the pastry starts to get too golden then cover the top of the bowls with aluminum foil so as to prevent them from burning).
16. Take out from oven and let the bowls rest for 20 minutes. Serve.