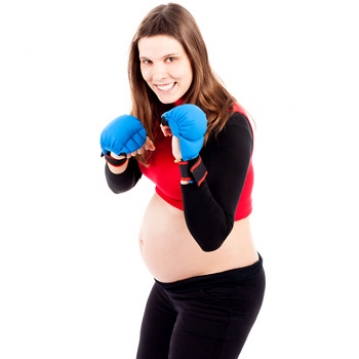 I would imagine how exciting a time this must be for you if you're pregnant.
And if this is the case for you, I just want to start off by saying congratulations! I wish you the best of everything :)
So on that note –I'll come right out and say that one of the best ways to benefit from the entire experience will be to treat your body right during pregnancy.
This will not only keep your mood elevated, but it will serve you well after delivery since most women are on a quest to drop the weight as soon as possible.
So this month, we're going to discuss healthy living while pregnant. This is to help you make smart and empowered decisions during this most special time in your life.
Tip #1 – Communicate Clearly With the OBGYN About Exercise
And feel free to have your personal trainer communicate with them as well if applicable.
The reason is because there may be certain contraindications to exercise depending on conditions that may be present during pregnancy…and unless your OBGYN knows you are exercising – this conversation may or may not take place.
You just want to be well informed about how to best embark on an exercise program during this period of your life as the rules are a bit different.
Tip #2 – Eat Well
As we all know - The caloric needs during pregnancy are increased…and this is normal. So on that note, I just wanted to point out that being very deliberate in regard to food choices is extremely important.
You want to listen to your body at all times…but you also want to make sure you're getting the most nutrient dense foods available as often as possible while allowing yourself to indulge from time to time.
Tip #3 – Exercise Intensity
Now assuming you've fol lowed tip #1 and you're all cleared for exercise, it's important to implement some good sense tips.
Moderate intensity exercise for around 30 minutes a day is sufficient enough to help you maintain a healthy level of activity without overdoing it… so a nice brisk walk or some light strength training are ideal.
This isn't the time to participate in an intense program.
There is always time for this later on after birth and when your physician has given you the OK.
However, this IS the time to create a healthy and balanced outlook on life and well-being… as it will play a key role during pregnancy – and afterwards.