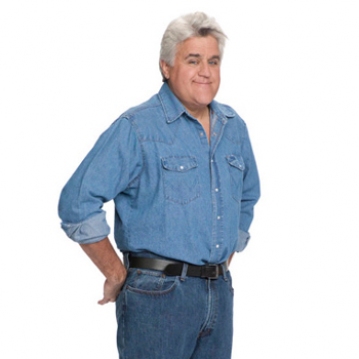 Jay Leno's stand-up career began while in college and he moved to Los Angeles to write for television. He became guest host of The Tonight Show in 1987 and when Johnny Carson retired in 1992, NBC chose Leno as his replacement. In 2009, after 17 years as host, Leno handed the show to Conan O'Brien. But, only a few months later, NBC caused controversy by bringing Leno back as host and bumping O'Brien. In April 2013, Leno announced plans to exit The Tonight Show. He said a tear-filled goodbye on February 6, 2014 and Jimmy Fallon, the new host, kicked off the Tonight Show on February 17 th . From Steve Allen in 1954, Jack Parr in '57 Jonny Carson's tenure for 30 years beginning in '62, to Leno and now Fallon, tradition stands and life changes, as does everything else. Change is in the air as springtime comes…. What's changing for you?
Jay Leno was born James Douglas Muir Leno on April 28, 1950, in New Rochelle, New York and moved to Andover, Massachusetts, where he spent his childhood and young-adult life. As a student, Leno displayed his comic tendencies with pranks and practical jokes. His fifth-grade teacher's report card comments, "If Jay spent as much time studying as he does trying to be a comedian, he'd be a big star." LOL Leno made his first appearance on The Tonight Show in 1977. Around this same period, he made numerous appearances on late-night TV, particularly Late Night with David Letterman. Later that year, he signed a deal with NBC that made him one of two permanent guest hosts of The Tonight Show. He became the only guest host two years later.
In 1992, Johnny Carson surprised many by retiring from his long-standing role as America's beloved and premier talk show host. There had been speculation that David Letterman, whose Late Night show followed Carson's, would take over hosting duties, a position he had publicly coveted. However, NBC picked Leno, who most considered to be a safer, more middle-America-friendly choice.
Leno has been married to wife Mavis Nicholson since 1980. He met her while performing at a Comedy Club in Los Angeles. Mavis was in the audience, and she laughed at all his jokes at the right time. She is active in the Feminist Majority Foundation which helps raise funds to combat the strict Islamic fundamentalist Taliban regime that requires women to wear head-to-toe shrouds. They live in Los Angeles and have no children. Leno spends his spare time working on his collection of classic cars and motorcycles. He owns approximately 190 vehicles, about 90 of which are motorcycles. He also has a website called "Jay Leno's Garage," which contains video clips and photos of his automobiles in detail. Among his collection are two Doble steam cars, a sedan and a roadster that were owned by Howard Hughes. Leno has a regular column in Popular Mechanics which showcases his car collection and gives advice about various automotive topics, including restoration and unique models, such as his jet-powered motorcycle and solar-powered hybrid. Leno also writes occasional "Motormouth" articles for The Sunday Times, reviewing high-end sports cars and giving his humorous take on automotive matters. Humor takes Leno a long way and he believes that, "You cannot be mad at somebody who makes you laugh. He says, "It's as simple as that."
On a more personal note, how do you say goodbye after 22 years on air? As Leno gave his final goodbye on The Tonight Show he made it clear that he doesn't like goodbyes, and he's sad (OK, more than just sad) to be leaving the "best job in show business."
As Leno reflected on his experience, he said the years he spent hosting the show were the greatest of his life. "I got to meet presidents, astronauts, movie stars… it's just been incredible," he said. He also thanked the audience for their loyalty and The Tonight Show crew for becoming like his family, especially since his mother, father, and brother all died within his first few years of hosting the show.
It was a heartfelt, tearful farewell—along with plenty of playful banter and teasing.
He ended by quoting Johnny Carson, wishing all "a heartfelt goodnight."
An old Buddhist proverb says, "Change is inevitable, suffering is optional." We are all experiencing change in our lives in so many ways. Let's use Leno's way – and add heartfelt humor to each and every day. Make March Memorable!!!