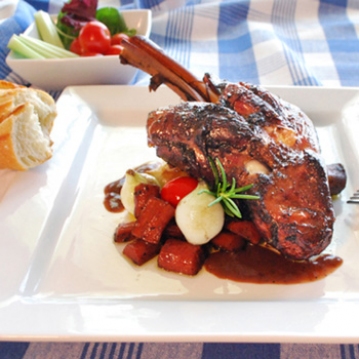 Marinating sauce
Kosher salt and fresh ground black pepper to rub the lamb shanks

3 Tbsp Dijon mustard

1 Tbsp chopped fresh rosemary

1 Tbsp chopped fresh mint

1 1/2 Tbsp olive oil
Ingredients
4 lamb shanks
3 Tbsp extra virgin olive oil
2 large onions (diced)
4 carrots (chopped, medium pieces)
4 celery stalks (chopped, medium pieces)
2 Tbsp roasted garlic (see at www.chefmariaamado.com in Salsas y Marinados- Ajos Rostizados)

2 cups Porto wine
1 1/2 cups good red wine
4 cups chicken stock
1 lb. baby potatoes (not peeled, chopped in half)

8 oz. button mushrooms Kosher salt and fresh ground pepper to taste
Preparation
1. Preheat oven to 350 F
2. Rub the lamb with salt and pepper.
Mix together all the ingredients of the marinating sauce and rub the mixture all over the lamb. Cover and place in the refrigerator overnight.
3. Dry the lamb of the marinade with paper towels.
4. Put a Dutch Oven over medium-high heat, add the olive oil, add the lamb and let it cook until it looks well roasted. Take it out and put aside.
5. In the same Dutch Oven, roast the onions, carrots and celery.
6. Add the roasted garlic, the wines and chicken stock. Add the lamb, the rest of the marinade and let it boil for 10 minutes.
7. Cover the Dutch Oven and place it in the preheated oven for approximately 1 hour and 25 minutes.
8. Add salt and pepper to the potatoes and mushrooms.
9. Carefully open the oven, add the potatoes and mushrooms, finish them in the oven for 20 minutes or until the lamb and potatoes are tender. Taste salt and pepper.
10. There are two options with sauces: first, it can be served how it is. Second, drain the juices from the stew, process in a blender with 2 Tbsp of the onion, carrots and celery from the stew. Strain and pour in a small sauce pan. Reduce the sauce for a few minutes to medium heat. Taste. Serve with the lamb and the rest of the vegetables.
11. Accompany with some good bread and of course with an excellent wine.