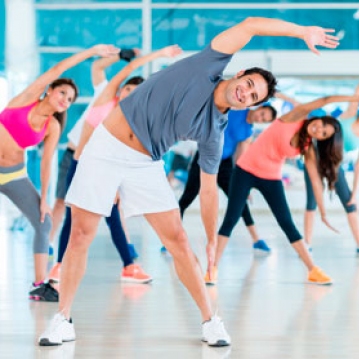 Over the years, I've had several people ask me what I think about 'this or that' workout program (dvd, class, etc)…and whether or not I thought they would work.
And considering how many available options there are…I can understand that making a choice can feel a bit overwhelming.
So this month, I'd like to give a brief synopsis about who would benefit the most from various exercise techniques – all in an effort to help keep you connected to the process of well-being.
The following is a list of different methods you can use to help get you into a routine that focuses on the most appropriate form of exercise for YOU!
In-Home Workouts
If you happen to be someone who doesn't enjoy crowds, or has limited time in their schedule – then I would highly recommend working out at home.
This can easily be done using a dvd or Youtube and isn't limited to strength training either…as there are walk-at-home programs available for fitness enthusiasts of all levels.
You also have a variety of options available in regard to time – as there are programs that range from 10 minutes to an hour.
The Gym
On the other hand, if you happen to be someone who needs to get out of the house for a little while, doesn't mind the crowds and prefers a large selection of exercise equipment to use – then you may be a great candidate for joining a gym.
Another benefit of belonging to a gym is that sometimes, the act of watching others can motivate you to get moving.
If you're thinking of trying this option out – I would suggest scouting out the different facilities in your area and choose one that doesn't require a long term financial commitment.
I would also HIGHLY recommend making sure the staff is well-qualified in exercise science and safety and that the gym itself has an AED.
Classes

A benefit to taking exercise classes is that you get to try out different activities – usually without a long term com mitment.
So if you've ever wondered if yoga, spinning, pilates, martial arts or zumba would be right for you – then taking a beginner's class would be the best way to find out. The idea is to experiment and discover what works best for YOU – and the best way to do this is to be honest with yourself about your likes/ dislikes, budget, schedule and personality.