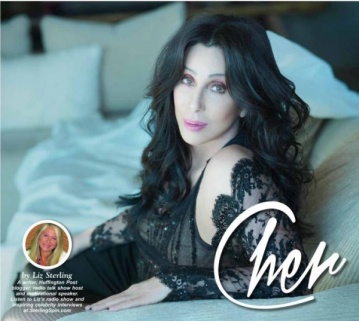 Cher knows what it takes to keep her audiences happy and when it comes to Cher, the beat goes on ... and on ... and on. She is truly a superstar entertainer who has won an Academy Award, a Grammy Award, an Emmy Award, three Golden Globe Awards, and the Best Actress Award at the Cannes Film Festival, among several other honors. Her other ventures have included fashion designing, writing books and managing the film production company, Isis. Recognized as one of the best-selling music artists of all time, Cher has sold more than 100 million solo albums and over 40 million records as Sonny & Cher worldwide. She is the only artist to date to have a number-one single on a Billboard chart in each of the past six decades. She has transformed herself time and time again, made a believer out of everyone and parlayed her singing career into a serious, Oscarworthy, dramatic actress.
At 67, Cher has been up and down too many times to count. "I feel like a bumper car. If I hit a wall, I'm backing up and going in another direction," she says, adding, "And I've hit plenty of walls in my career. But I'm not stopping. I think maybe that's my best quality: I just don't stop."
Cher has managed to rise like a phoenix from the ashes each time she was down and counted out, some how re-inventing herself with every changing decade and finding herself on top all over again. "I can trust my friends," she acknowledges, these people force me to examine myself and encourage me to grow. She has learned that honesty makes her feel powerful in a difficult world.
Born Cherilyn Sarkisian, Cher quit Fresno High School at the age of 16 in search of her dream. At that time, she had a brief relationship with actor Warren Beatty. Meeting the quite older (by 11 years) Sonny Bono in 1962 changed the 16-year-old´s life forever. Bono was working for record producer Phil Spector at Gold Star Studios in Hollywood at the time and managed to persuade Spector to hire Cher as a session singer. She went on to record backup on Spector classics including "You´ve Lost That Lovin´ Feeling" and "Be My Baby". The couple´s relationship was sealed when she and Sonny married on October 27, 1964.
The iconic couple became the signature of the late ´60s "flower power" scene. They found a successful formula with their banter, which became a central theme in their live concert shows, even more than their singing.
The marriage dissolved, although not easily, in 1974 and they publicly announced their separation. The Sonny & Cher Comedy Hour, which had earned Cher a Golden Globe Award, took a fast tumble as the separation and divorce grew more acrimonious. Eventually they both tried to launch their own solo variety shows, but both failed to even come close to their success as a duo. Audiences weren´t interested in Cher without Sonny, and vice versa.
In late June of 1975, only three days after the couple´s divorce, Cher married rock musician Gregg Allman of The Allman Brothers Band. That marriage imploded and they divorced by 1977 with one son, Elijah Allman.
Cher proved her talent as an actress of high-caliber and integrated well into the Hollywood community. She stared in: The Witches of Eastwick, Suspect, and Moonstruck, for which she won the Academy Award for Best Actress. Along with all this newfound Hollywood celebrity came interest in her as a singer and recording artist again. "If I Could Turn Back Time and the Peter Cetera duet "After All placed her back on the Billboard charts.
During the 1990s Cher continued to veer back and forth among films, TV specials and expensively mounted concerts. In January of 1998, tragedy struck when Cher´s ex-husband Sonny Bono, who had forsaken an entertainment career for California politics and became a popular Republican congressman in the process, was killed in a freak skiing accident. That same year the duo received a star on the Hollywood Walk of Fame for their contribution to television. In the meantime an astounding career adrenalin rush came in the form of a monstrous, disco-flavored hit single Believe. The song became a #1 hit and the same-titled album the biggest hit of her career. Believe reached #1 in 23 countries.
Having little to prove anymore to anyone, Cher decided to embark on a "Farewell Tour" in the early part of the new millennium and, after much stretching, her show finally closed in 2005 in Los Angeles. It didn´t take long, however, for Cher to return. In 2008, she finalized a deal with Las Vegas´ Caesars Palace for the next three years to play the Colosseum. But never, say never, because Cher also returned to films, co-starring opposite Christina Aguilera in Burlesque.
Cher has unprecedented stamina and shows no signs of retiring in the midst of her Dressed To Kill Tour, which comes to south Florida for one night on May 17th and runs through November 2014. Cher looks fabulous, wears knock em dead outfits, dances like there's no tomorrow and LOVES her audiences and the adrenaline rush she gets from doing what she does best, entertaining! She uses Facebook to stay connected and recently wrote: ´The Road is TOUGH. Thank God.. I'm TOUGHER! I AM KICKING ITS ASS RIGHT NOW, But Cant Kick It 4Ever! You Haven´t Seen the Last of Me,´ Cher, whatever you say, we BELIEVE!