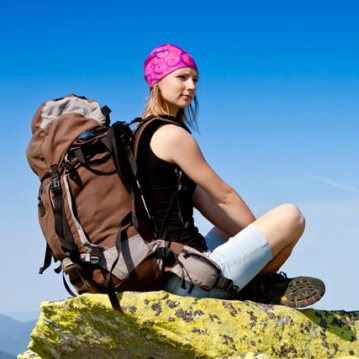 Everybody needs a little time away, right?
Well Peter Cetera seemed to think so… and I agree. It's good to get a change of scenery sometimes.
And since summer break is just around the corner, it's likely that many of you may be going on vacation.
Now I'm not sure if you've noticed… but it can be challenging to engage in healthy habits when you're away. So this month, I'm going to share a few tips with you to help you stay connected to the process of healthy living regardless of your environment or activities.
Tip 1 – Bring Your Exercise Clothes and Portable Equipment with You and Make a Schedule
Having your intention set in advance is powerful – and puts things in motion. And if you have your equipment (things like resistance bands, your own body weights and some videos/workout routines) with you, it's easier to stick with it.
I followed this tip during a visit to my in-laws over the holidays and it worked like a charm. It would have been easy enough to forgo any physical activity… but because I had decided in advance to do some exercising while I was away and brought the necessary tools to carry them out, it was easy enough to allow my behavior to follow along accordingly.
Tip 2 – Consume Healthy Foods as Often as Possible
The best way to keep the consumption of junk to a minimum is to fill yourself up with high quality nutrition as often as possible. You won't be hungry – and when you aren't hungry, you aren't as tempted to eat useless foods.
And then if you do want to consume something sinful – you can figure out when, where and why and stick to that. This way you won't feel deprived, but you will be in charge.
Tip 3 – Stay Hydrated
It's easy to confuse hunger for thirst – and since this is the time of the year when we lose a lot of extra water through perspiration… dehydration happens a little more easily than normal.
To avoid this, make sure you drink a lot of purified water throughout the day. If you drink alcohol, then consider alternating your drink of choice with a glass of water as well - for every good reason imaginable.
Follow these tips and you should be able to return home and go on about your business – without having to 'undo any vacation damage" :)