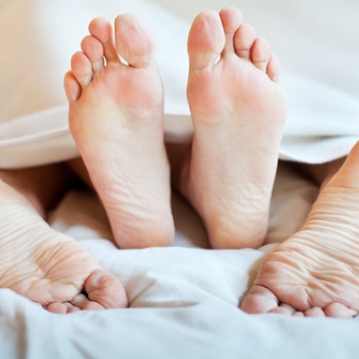 In the start of a relationship we rely heavily on physical attraction, sex hormones, dopamine and excessive flirting to create great sex. As a relationship continues, without care, some of these enticing features may fade. Just like an engine or home requires maintenance, so does great sex. If the sex between you and your partner has gone limp, consider:
1. Physical attraction: When we first pair with our partner there are certain physical qualities that attract us. Over time these are bound to change, so thank God they are only part of the equation! However, if you have neglected your physical appearance, you may want to put greater effort into your exterior. Men and women alike are sexually stimulated by physical features, body movement and accoutrement. Men are more interested in a woman's hips and waist while women consider a man's eyes and shoulders as well as status or social class.
2. How you speak to your partner: We have learned that vocal tone, not so much what you say but how you say it, plays a large role in sex appeal. Consider the tone you take with your partner over time. Do you still use a flirtatious and lusty tone of voice or have you become aggressive, argumentative or petulant?
3. Physical health: In addition to physical appearance and how we move, our sense of smell is also a strong motivator sexually. If poor overall physical health is impacting your agility, causing an unpleasant odor or affecting your appearance, it's time to do what's in your power to maintain good physical health.
4. Novelty in the relationship: Are you continuously introducing new and provocative things into your relationship? (And I don't just mean swingers clubs and sex shops). I'm referring to life experiences, ideas and conversation. When we get bored, we lose interest... in and out of bed... and one contributes to the other!
5. Unresolved painful feelings in the relationship: Has there been an event or incident that has caused pain for you or your partner that remains unresolved? This can have a huge impact on desire and closeness. If this is the case, it's time to face the issue and find a resolution, or you can kiss those passionate kisses goodbye!
Sex is meant to feel amazing. In a long term committed relationship keeping the sex satisfying is an art. Offer the same care and attention to your partner's privates as you would to your dream home or that classic car you've always wanted; you will be sure to chase the "blah's" away and have mind blowing sex!