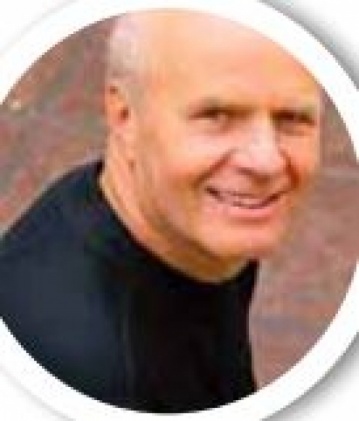 DISCOVERY ZONE
Known as the "father of motivation," Wayne Dyer is one of the most widely respected people in the field of self-empowerment. He became well known with his best-selling book Your Erroneous Zones and has gone on to write many other self-help classics. Dr. Dyer has a doctorate in counseling psychology. www.drwaynedyer.com
RRecently three of my kids and I were seated at the food court of a mall here on Maui. As we were talking and enjoying our meals, a young boy stumbled, and the tray full of hamburgers and French fries he'd just purchased from McDonald's went flying all over the floor. His parents immediately came to his rescue, and the man ager of the restaurant good-naturedly replaced all of the food at no cost. The boy was embarrassed, but it all worked out fine... except that people were having to dodge what he'd dropped as they lined up for their purchases.
Neither the boy's family nor the people working at the restaurant took any initiative to clean up this mess, which was actually a hazard to the crowd at the food court. I watched for a few moments, and then I took an empty tray and proceeded to pick up all of the food and dispose of it in the trash container. I returned to my seat, saying nothing about the incident.
About ten minutes later, a woman who'd observed this scene without my noticing came over to our table. To my teenagers she said, "You girls have just been given a lesson by your father - he has shown you by his actions what it means to be a caring, helpful citizen. No one else in this entire place thought of doing anything about that mess on the floor, but he did. He inspired me, and I hope that you were inspired by his actions, too." She left, and my girls sort of smiled knowingly, since this is rather a normal thing for them to see.
The point of this story is to illustrate that one simple act of kindness and service that's in alignment with our Source will do more to inspire others than lectures on the virtues of being a thoughtful c i t i z e n e v e r c o u l d . A l l I wanted to do was eliminate the potential peril of greasy burgers and fries on the floor - I wasn't trying to inspire anyone and that's the crux of this chapter.
When we elevate our consciousness above the level of ego, which says, "I didn't spill that food, so it's not my job to clean it up!" to the level that asks, "How may I serve?" we become an inadvertent source of inspiration to anyone who's in the energy field of our spiritually based actions.
We can also be on the lookout for opportunities to be a source of inspiration. For example, when I board an airplane, I tend to look for the chance to extend some sort of service to "strangers." (I put the word in quotes to emphasize that there aren't actually any strangers anywhere in the Universe.) Helping vertically challenged passengers place their carry-on luggage in the overhead compart ment is perfect because others noticing this act of kindness may be inspired, while, at the same time, I'm heeding my own calling to be both inspired and inspiring.
I know that someone who needs my assistance is really a Divine emissary who's right there in front of me, offering an opportunity for me to be in- Spirit. For instance, not long ago I flew from Maui to Los Angeles and then boarded an all-night flight to New York. On the way to L.A., I'd watched the fabulous movie Chicago; once on the plane to New York, I noticed one of the stars of that film, Renee Zellweger, getting on. Vertically challenged with heavy luggage, she certainly met all of my criteria for being both a source of in spiration and becoming inspired. I helped her with her baggage and then gave her a copy of my book, 10 Secrets for Success and Inner Peace.
Many people on the plane approached her, including the flight attendants, and I watched and felt inspired by the kindness, patience, and personal concern Renee showed toward everyone she talked to.