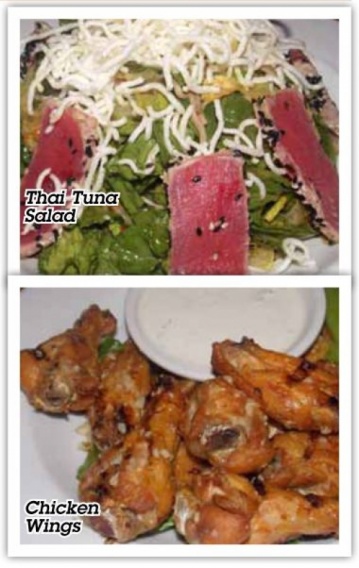 Supremely Delicious with Spectacular Ambiance
Late night dining at Deerfield's Two Georges is an experience rarely duplicated and never surpassed. Shimmering lights from a nearby bridge, Intracoastal mansions and palatial yachts create a festive atmosphere perfectly suited for the winter holidays. The copious interior with its soaring ceilings, water view windows and spacious booths is chic and comfortable. Well dressed tables are arranged to provide the space needed for intimate conversations and the superb staff delivers impeccable service.
Black Ink Seafood Pasta Uniquely crafted drinks, a large selection of beers and a superior collection of vintages provide an excellent way to begin your culinary voyage. Happy Hour (Mon-Fri, 4 to 7pm) has always been a draw for the after work and after beach patrons. Friday kicks off a weekend of great musical entertainment. These are just a few of the reasons this landmark continues to be a favorite for everyone addicted to exquisite cuisine.
Starters abound with deft touches and consummate flavors. Plump and tender Chicken Wings ($10.99) come in a variety of styles. We selected the grilled version dusted with garlic and paired with a serving of delectable in-house bleu cheese. For more brightness and ingenuity, bite into one of the gigantic Coconut Shrimp ($9.49) battered with a crunchy and not-too-sweet layer of shredded coconut.
The Thai Tuna Salad ($15.99) provides an incomparable blend of mixed salad greens, cabbage and snow peas. Buckwheat noodles add a delightful crunch that contrast with the satiny cuts of rare sushi grade tuna. The entire ensemble is energized by a sunny, slightly perky Thai peanut dressing.
We made our entrée selections with high expectation and we were not disappointed. Black Ink Seafood Pasta ($20.99), a special of the day, became an instant favorite. We have seen, but never tasted, dark pasta tinted with the ink of the squid. To our delight, the flavor was so appealing, the texture so pleasing, that we agreed this inspiration, overflowing with shrimp, calamari and scallops, should become a permanent feature of the menu.
Fresh Macadamia Encrusted Grouper ($23.99) is a stellar gastronomic triumph you won't find at any other restaurant. Whole, crisp nuts surround a flawless filet to create a texture that is absolutely sublime. Savory rice and julienne veggies are just two of the sides that form perfect complements.
At the finish line, try the Hot Fudge Sundae ($6.99) which is as refreshing as it is rich and seductive. Before you leave, inquire about activities available throughout the week.
For any special occasion, ask about the incomparable catering options. To get up to minute news about current events, log onto www.twogeorgesrestaurant.com/thecove