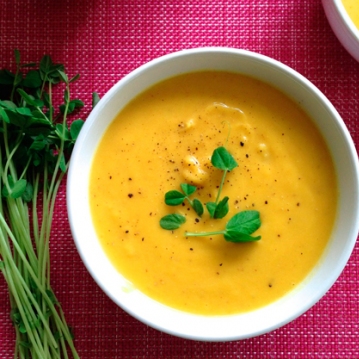 For the pumpkin lovers out there, this soup is for you! It's got simple flavors and the pumpkin really shines through. It's healthy, totally vegan, and perfect for this fall weather. Of course, I always recommend you play with your food, so, spruce it up as you like!
Ingredients
- 2 cups roasted pumpkin
- 1 tsp extra virgin coconut oil
- 1 small – medium clove garlic, minced
- 1/4 cup diced onion
- 1 cup water or homemade veggie stock
- 1 cup unsweetened homemade almond milk
- up to 1 tsp salt
- 1/2 tsp ground cumin
- dash of ground turmeric
- dash or two of ground nutmeg
- garnish: black pepper and choice of pea shoot greens, parsley, or sunflower greens
Preparation
1) First roast the pumpkin: peel the skin off of a pumpkin (with potato peeler) and chop into small cubes, cutting away from the gooey center and seeds. Line a cookie sheet with parchment paper and bake pumpkin on 400 for 30 minutes or until tender.
2) Put pumpkin in the blender.
3) Now, warm a pot (1 quart or bigger) on medium heat. Once warm, add coconut oil, garlic and onion. Cook for 3 – 4 minutes, stirring regularly to keep from burning. While that's cooking, add water, almond milk, salt and spices to pumpkin in blender and blend until smooth.
4) Add blender contents to the pot and stir. Continue to cook on medium heart until soup is hot. Pour into bowls and garnish. Enjoy!