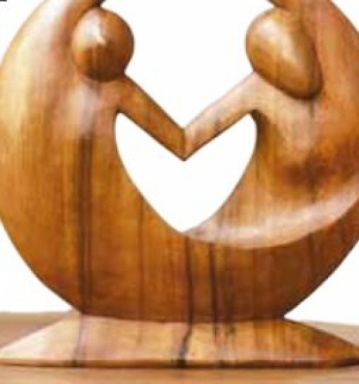 During this hectic holiday shopping season, the best gifts for friends and family are not only wonderful to receive, but also give back to children who need help.
The United Nations Children's Fund (UNICEF) works in more than 190 countries and territories to save and improve children's lives, providing medicine, clean water, nutrition, education, emergency relief and more. This year, the organization is proud to announce the launch of its inaugural UNICEF Market, an online holiday marketplace which benefits the organization's work for children, featuring gifts from around the globe, from handcrafted jewelry, home accents and accessories, to books that will inspire readers.
Give an inspired gift
For a truly unique gift experience, shoppers can purchase UNICEF Inspired Gifts in their loved one's name. From packages providing lifesaving nutrition to vaccines and mosquito nets, you can find more ways to help children at www.inspiredgifts.org.
The organization also offers a variety of boxed holiday cards ($10 to $20) that can be purchased online and through Pier 1 Imports, IKEA, Barnes and Noble and select Hallmark Gold Crown stores.
Pier 1 Imports and IKEA will donate 100% of the purchase price from the sale of each greeting card to the U.S. Fund for UNICEF. To shop online, visit market.unicefusa.org.
The perfect gift for the book lover, Caryl Stern's memoir "I Believe in ZERO: Learning from the World's Children," takes readers on journeys through Africa, South America, and South and East Asia to experience the lives of women and children. The author has chosen to donate 100 percent of the royalties she would have received to the U.S. Fund for UNICEF.
Other ways to support
For more than 20 years, Pier 1 Imports and UNICEF have held a greeting card contest with the winning design being reproduced as the organization's official greeting card. The winning card is sold exclusively at stores nationwide and on pier1.com with 100 percent of the purchase price going to the organization.
IKEA's global "Soft Toys for Education" campaign has raised more than $90 million to help provide a quality education to 11 million children in 46 countries. From November 9 to January 3, for every soft toy or children's book sold in IKEA stores, the IKEA Foundation will donate one euro (approximately $1.30) to support UNICEF and Save the Children's global education programs. The Soft Toys for Education collection includes a wide range of woodland and fairy tale creatures with accompanying story books. The 2014 collection includes newcomers such as KATTUGGLA the soft toy owl and PIPHARE the soft toy rabbit. For more information, visit www. ikeafoundation.org.
K.I.N.D: Kids in Need of Desks offers desks ($65 each) for children in schools in Malawi, where four out of five students do not have a desk or chair. In addition, the fund is providing scholarships for girls in the country. A donation of $177 delivers one year of education, and is available for purchase at http:// inspiredgifts.unicefusa.org/shop/schools.
This holiday season, as travelers visit loved ones around the globe, they can use their spare currency to make a difference in the lives of children in need. Through UNICEF's Change for Good program on American Airlines, travelers can make donations of foreign and domestic currency on select international flights or at Admirals Club and Flagship Lounges.
Through Delta's SkyWish program, SkyMiles® members can donate their unused frequent flier miles to the U.S. Fund for UNICEF for travel in support of UNICEF's lifesaving work for children. As part of a long-standing partnership of over a decade between the U.S. Fund for UNICEF and Delta, this is a simple way for SkyMiles® members to put their unused miles to good use this holiday season. For more information or to donate miles, visit www.delta.com/skywish.
Through Dec. 31, 2014, donations to UNICEF's education programs in Syria will be matched one-for-one by Western Union, aiming to raise a total of $100,000 to support education programs in and around Syria. As part of its broader Education for Better Fund, Western Union has committed a minimum of $50,000 to support UNICEF's efforts to provide education to children in Syria and neighboring countries. In the U.S., donations can be made via westernunion.com using a credit card or debit card. For more information or to donate, please visit www.westernunion.com/ donate.
To find out more, and to shop for holiday gifts that help others, visit shop.unicefusa.org.