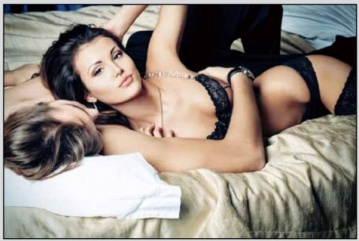 Great sex can be yours all year round, but there's something just a little more special about holiday sex. Sure, the air is full of holly jollies, but there's so much going on that it's easy to get stressed out, too. Avoid the stress, bust out the erotic lingerie, because we have some tips so you can kill two birds with one stone this holiday. A passionate night of holiday sex is the perfect stress relief that also keeps you happily warm when you're curled up in your lover's arms.
Heat It Up
Staying warm during the winter season is the perfect excuse for some holiday sex. Cuddling up in bed to stay warm will naturally lead to some sensual, intimate moments. Alternatively, you can heat it up in the bathroom by taking a hot shower or bath with your lover. Soap each other up slowly and lovingly, then whip out this suction foot rest for an exciting new position.
Sex Toy Gifts
One of the hottest things a couple can do together is experiment with adult sex toys. The holidays are a great time to introduce a new toy or two to your sex life in the form of Christmas gifts. Take a trip together and pick out a few items that you might be interested in using together, and then surprise them with one on  Christmas morning!
Holiday-Inspired Sexy Outfits
Adding some seasonal shine to your bedroom attire is the perfect way to acknowledge the holidays with a little sexiness. The ribbons and bows of the season are already festive, so grab a Santa hat and tell your significant other it's time to get in your lap.
With the Little Miss Nutcracker set, you'll be one present he's dying to unwrap this Christmas. This erotic lingerie ensemble come with every thing you need to be the hottest Santa the world, or at least your lover, has ever seen.
Sneak a Sexy Peek
If you and your significant other are staying with the folks this holiday, sex could be a little difficult when you know the house is full of family. But that doesn't mean you have to keep your hands totally off. In fact, being secretive about your desires can add an entirely new and exciting dimension to your sex life. Slip on a racy little number like the Pearl Thong and sex will be on your mind as the pearls give you some secret stimulation all day long. Wear a skirt so that if you get a few minutes of solo time with your significant other, you can give him a sneak peek of what's to come when you're finally back home alone.
Fool Around With Clothes
On Take your holiday sex back to when you first got together. Chances are you engaged in some pretty heavy petting before taking it further. So when you're visiting the family and finding it difficult to get it on, keep the clothes on and transport yourselves back to the time before you'd even had sex. Make out like crazy, and the sexual tension will keep things extra hot. Whether or not you're spending the holidays with your family, holiday sex is a must for staying sane and enjoying the season. During the winter months, sex can go one of two ways: into a bit of a slump, or more exciting than ever. Deck yourself out in some erotic lingerie and avoid the slump with tantalizing adult sex toys for your sexiest holiday yet.
For more information visit:

www.loverslane.com

• Call 800.266.9016