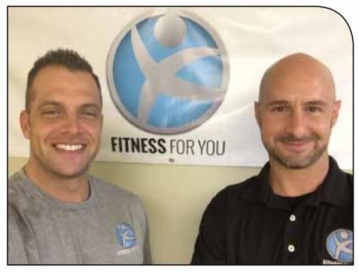 "We want to let people know what is going on around them in the fitness world, not what is happening half way across the country. We wanted to give people that are serious about their health and fitness the ability to read about relevant, local, upcoming events, businesses, and athletes that they can benefit from" said Nick Porreca. In August 2014 Pete Martz and Nick Porreca started Fitness For You. The idea was to take local health and fitness related businesses, schedules of upcoming local health and fitness events, local athletes, and interesting healthy recipes and create a free publication for members and guests of gyms across South Florida to read for free.
So many of the larger fitness magazines have a disconnect between readers, and what they are reading about. Fitness For You eliminates that disconnect by providing readers with articles on relevant local topics they can relate to. "We only feature topics and businesses related to fitness, health, and beauty…no exceptions" states Martz.
For two guys living in South Florida this idea seems to be the perfect way to put relevant fitness and health related information in front of people that care about their wellbeing. Located in Deerfield Beach, Porreca and Martz have seen the fitness industry grow over the years, and base their future success on its continual growth in both South Florida and beyond. With over 19 years in the marketing industry both Porreca and Martz started Fitness For You to give people something that was not available, a local fitness and health magazine that local people could relate to.
Currently Fitness For You is in gyms and various businesses throughout South Palm Beach County, and will be expanding to Broward County and Miami Dade this upcoming year. The publication is free for anyone to pick up. To request Fitness For You for your gym, or business call (954)482-4482 or email info@ fitnessforyou.us