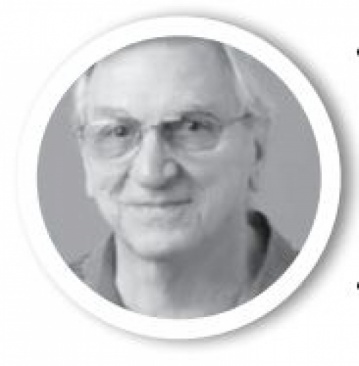 PROJECTS TO IMPROVE YOUR HOME
Roger Zona is a Florida State Certified General Contractor with 40+ years of experience in the industry. You may contact him by email at: contractortalk@live. com or mail to Happy Herald, P.O. Box 810548, Boca Raton, Fl 33481
People 75 and older say they want to stay in their homes indefinitely. This is perfectly natural, but it's also a recipe for worry. You can make your parents' home far safer by investing in some of the new devices aimed at elders.
Seniors don't want to lose grip on their independence. Here's a few ways to alleviate your fears about your live-alone parents' safety.
A big button cell phone standard instrument is helpful to many seniors won't use a cell phone. They find them too complex, can't manage the tiny buttons, or can't read the screens.
The Jitterbug ($147) is much easier to use and is designed specifically for seniors. It's an easy-open clamshell with extra-loud speakers, big backlit buttons, a bright screen with easy-toread numbers. The Jitterbug takes simplicity a step further.
House-cleaning iRobot family of automated cleaners ($120 - with $500) is available at the big-box stores. The cleaner restores your parents' sense of control. If a box of cereal spills, the effective iRobot Roomba handles it with the push of a button. The Scooba washes floors on its own and prevents slipping and falling. The Looj is a rain-gutter cleaning robot which can save on the expense of a handyman.

A temperature-activated flow reducer is relatively low-tech and can cost less than $40, but this gadget works. It is a screw-on faucet attachment that prevents burns by shutting off the water from a sink or shower if it gets too hot.

The Safe-T-element Cooking system: This device consists of covers that you can install over existing stovetop burners. They limit how hot they can get and automatically shut off the stove if they reach a certain temperature.

Personal Emergency Response System. These home devices connect to a 24-hour call center. The transmitter send a signal the to the call center. The parent can push the button after a fall. The call center then contacts you or emergency personnel. They can be purchased or leased.
Hard-of-hearing parents will appreciate the doorbell and telephone flashing light signaler. This device enables a ringing doorbell or phone to trigger a flashing light – and lets them know when visitors have arrived or there is a phone call.
A number of high-tech monitoring systems are on the market now and report to you, your computer, or a dispatcher when something does happen. For example, your Dad goes into the bathroom and still hasn't come out an hour later. They are rather expensive. Some, like the QuietCare Plus add motion detection and also monitor whether the house gets too warm or too cold.
Another option is BeClose, which places sensors throughout the home to track one's daily routine, and sends disruption. Similarly the E-Neighbor you an e-mail any time there's a System is a program to detect unusual activity in the home. A shower left running or a fridge that goes unopened for a day could trigger a phone call to you or a caregiver.