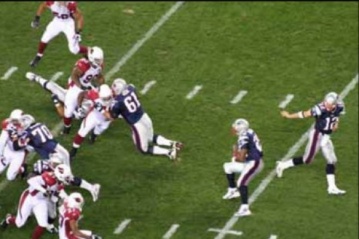 You're a fan - of your favorite team.
It could be basketball, football, soccer or an individual sport. It's Tiger Woods in a playoff for the 2000 PGA championship, nailing a 20-foot putt to continue the drama. It's Joe Montana leading the 49ers to victory by driving his team 92 yards with 3 minutes to go in the Super bowl to beat Cincinnati, 20-16. It's Rumeal Robinson hitting two free throws with no time left on the clock to lead Michigan to the 1989 NCAA basketball championship over Seton Hall (yes, Seton Hall used to be pretty good).
How do they do it? How is it some guys – and gals – manage to perform their best when the stakes are the highest?
I was reminded of this mystery again while watching last month's Super Bowl, won by New England's Patriots, and thanks in large part to the two fourth quarter scoring drives engineered by their quarterback, Tom Brady. By the way, it wasn't the first time Tom Terrific (as his fans call him) had done this; in fact, in his previous three Super Bowl wins, Brady's team had won all three contests by three points. Two of those games were of the last second variety and wound up being decided by a field goal. So, it's not by accident some people do their best when the lights are the brightest.
But, again why? The simplest answer? Because the person performing believes he or she can do it at that time – either because they've done it before, or because they were raised, developed and trained to believe they could do it when the game was on the line. In a word, confidence.
Reading through the biographies of the great champions, you find a common theme: somewhere along the line someone, be it a parent, a relative or a coach, instilled in that young person the idea they knew that athlete/person was going to be successful. Chip Kelley, head coach of the NFL's Philadelphia Eagles, was asked if he thought his collegiate style would work in the pros. He said he didn't know, but he believed his system was sound fundamentally and he was confident in his preparation so that it would be successful. In 2013, the rookie head coach won the NFC East.
Of course, just believing you can do something doesn't mean it's going to happen. I wanted to play centerfield for the Orioles but, hey, some things just don't work out. The point is no matter what endeavor you choose in life, if you're fundamentally sound in your approach and confident in your abilities, chances are you're going to be successful. In athletics, in law, in business – in life.
So go get 'em!
Mark Tudino is an attorney
with offices in both Miami-Dade and Broward counties, whose practice specializes in all areas of civil litigation. He has lived in South Florida for more than 20 years. Prior to attending law school, he was a political and sports reporter for television stations across the country. His career allowed him to cover everything from presidential elections to national championship sports teams, and he still maintains a passion to observe and discuss the world of sports.