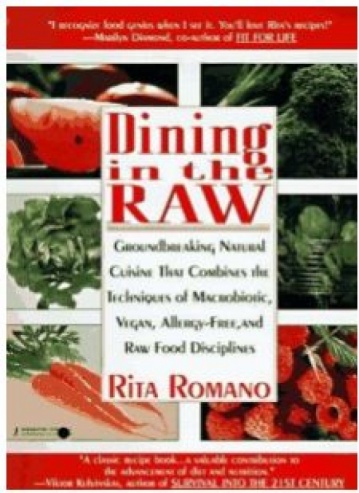 The beautiful setting, informative content and delectable recipes were part of Paul Nison and Rita Romano's "3 Day Raw Food Retreat" at Rita Romano´s Institute in Lake Worth, Florida. This is a fabulous , fun and educational program that includes three full days of Health Lectures and Raw Food Demonstrations with Healthy Raw Meals to keep you full and satisfied!
Paul Nison along with several interesting health professionals provided fascinating lectures, and the raw food meals were prepared by one of the best raw food chefs, Rita Romano. For upcoming retreat information, contact either Paul or Rita.
Rita Romano, Author, Chef and Educator, has taught raw food cuisine for 20 years. Her goal is to provide personalized instruction using her book "Dining in the Raw" as the curriculum guide and instruction manual. Although Rita presently concentrates on teaching raw food cuisine techniques, she continues teaching macrobiotic principles as well when requested. Her book does present the best of both worlds. This is the perfect food retreat for revamping your diet and lifestyle; a time out to learn how to take better care of yourself and your loved ones. Professional chefs enjoy this opportunity to expand their repertoire and feature a new direction in food preparation. Please contact Rita at 561-324-5794 or realitychef@rawkitchen.com or visit www.rawkitchen.com

Paul Nison, Raw Foods Chef and Educator, has been eating a raw food diet since he was d i a g n o s e d w i t h ulcerative colitis many years ago. With no other choice but surgery according to the medical profession, Paul decided to stop eating all cooked foods. Today he is 100% cured of this so-called "incurable disease" and still eats a raw food diet. Paul has been featured on The Food Network and in several magazines and newspapers around the world. He travels the world giving lectures on raw food nutrition and raw food prep classes to show people how easy and fun the raw life can be. Paul Nison has written eight health books about diet and healing from disease. Paul is available for lectures and events.
To contact Paul or book him for an event, contact: 561- 283-1707 or paul@ rawlife.com or visit Paulnison.com - The official site of Paul Nison