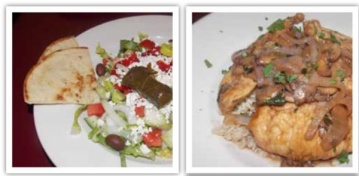 Peerless Renderings of Classic Greek Cuisine
8221 Glades Road (Tel) 561-477-3272 Lunch and Dinner
There is a bit of magic in everything you order at Jimmy the Greek. Perhaps it is because the Greeks have been at the hearth for over two thousand years .Not quite so old, this family operated gourmet haven has flourished for seven years at the same Boca Raton location. From the enthusiasm of the patrons we witnessed on a sultry Tuesday evening, the talented chefs will be plying their craft here for many years to come.
Set back from the frenetic traffic on Glades road, the restaurant offers both indoor and outdoor seating. The interior space is divided into two sections: a reception area that accommodates takeout and the spacious main dining room with neatly arranged rows of comfortable chairs, roomy tables and a wellstocked wine rack (beer is also available).
While many of the new Greek eateries focus on popular favorites such as souvlaki, gyros and feta cheese infused salads, few venture beyond an occasional chicken or beef kebob. You will have to search the four points of the compass before you will find a restaurant that offers the variety and sophistication of Jimmy's Hellenic cuisine..
An outstanding and congenial staff delivers prompt service and there is never a moment when they are not ready to accommodate your needs. Meals can be as simple or opulent as you wish.
We opened with the Roasted Red Pepper and Basil Hummus ($5.95) served with crisp, warm triangles of pita bread. The refinement and texture of this chick pea fantasy is unlike any we have experienced, whether it be from high end delis or formulations from organic sources.
Spinach Pie ($7.45) is another winner where for the first time there was more scrumptious spinach filing than phyllo dough. The Greek Salad ($9.95) with its bounty of mixed greens, feta cheese, stuffed grape leaves and kalamata olives was another hit.
General Manager Stephanie Gray makes a point of inspecting each piece of fish before it crosses the restaurant's threshold. A group of adventurous dinners ordered whole grilled branzinos, complete with head, tail and bones. My timid tablemates were not up to the challenge of deboning, so we ordered instead the awesome Sole Lemonato ($16.95) featuring a perfectly sautéed lightly battered lemon tinged filet Mavrodaphne is a wine that Odysseus might have enjoyed in his heroic travels and one we savored in the faultless Mavrodaphne Chicken ($16.95) served over an aromatic bed of rice infused with sautéed mushrooms and onions Don't miss the incomparable homemade Baklava where once again the filling (ground nuts and honey) rather than phyllo dominates the recipe. With such a range of outstanding delicacies, Jimmy the Greek Taverna is the ideal venue for your next catered affair.

For more information , visit www.jimmythegreekrestaurant.com