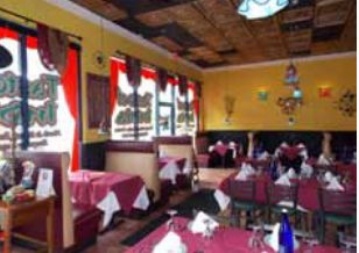 A Passion for Quality and Flavor
Over the past decade, Indian restaurants in South Florida have come and gone with only a handful surviving more than a few years. In London, as I gather from various sources, "Indian" restaurants are flourishing in almost every neighborhood and the British passion for Indian, Pakistani, Kashmir delicacies remains unabated. On this side of the Atlantic, you can replicate that zeal at Sunil's Taste of India located west of the Turnpike on Okeechobee Boulevard in West Palm Beach.
With the emphasis on the freshest ingredients, expert preparation and adroit use of spices, the kitchen produces a galaxy of gourmet dishes. From appetizers to thirteen varieties of freshly baked breads and countless meat, poultry, fish and vegetable delights, there is an endless range of choices that are carefully explained by a patient and knowledgeable staff. Service is always engaging and totally unaffected.
If you are addicted to flaming hot, search for tiny red chili pepper graphics in the margin of the menu that flag each torrid specialty. The versatility of the kitchen is apparent from the inclusion of South Indian favorites such as Masala Dosa, an incredibly crisp, paper-thin crêpe made from rice and lentils then stuffed with a gently seasoned potato filling. The crunch is fabulous and so is the flavor.
Other delectable are drawn from North Indian and Indo-Chinese cuisines. Vegan (no cream, yogurt or animal stock) and Vegetarian offerings are also abundant. Portions are more than generous and entrées are modestly priced, starting at $12.99 At $13.99, the daily lunch buffet is an incredible value. Some Indian restaurants overpower with the fragrance of turmeric, saffron and other spices, but here the aromas gently awaken the senses to the magic that is displayed along the width of the dining room. It's all here: Chicken Tikka, Goat Malabar, Tandoori Vegetables as well as Tandoori Chicken plus more dishes than you can consume in a week.
Then there are the chutneys - everyone's favorites: Tamarind, Mango, Mint, Onion and more. Riding along our platters was a superb warm, wafer thin Naan that we paired with a pour of Lindeman's Chardonnay ($5.99/glass). Select Indian vintages add zest to the exceptional wine list.
7750 Okeechobee Blvd (Tel) 561-721-8600 Lunch Buffet and Dinner daily
Desserts have their own display featuring homemade classics such as Galub Jamun as well as a gigantic fresh fruit tray. Although the quality and abundance of the kitchens' accomplishments merit countless accolades, the ambiance also deserves credit for making the dining experience extraordinary. Artifacts and art from India, elegantly appointed tables as well as a vibrant multi tiered bar combine to create an aesthetic that is pleasing to the eye and remarkably relaxing. For more information, visit the website at www.tasteofindiafl.us