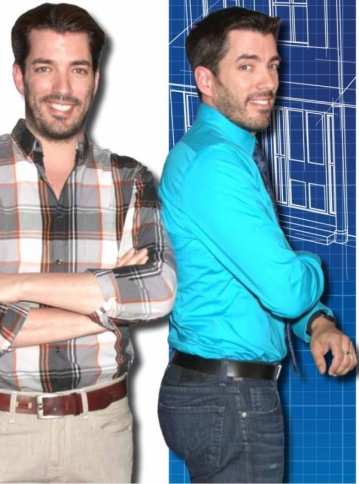 Meet Jonathon and Drew Scott, host of three top-rated shows on HGTV. "We started out as actors. When we were coming out of high school, we didn't want to be struggling actors and, I remember the conversation, we were like, 'Let's invest in real estate!' We knew nothing about it so we bought every book we could and we managed to use what we could and bought our first house at 18, fixed it up, and sold it a year later for a $50,000 profit, and that's when the light bulb went on. We were like, 'There could be something here.' So we kept doing it over and over and we had friends in business who kept asking to do it with us as well."
Here's how it works: Each episode of Property Brothers features three houses, all on the market. Families are first taken to a dream home by the brothers so they can see how much a final home would really cost. Then they are brought to two potential fixer-uppers that can be renovated on a reasonable basis.
These brothers are amazing. And there are some amazing facts as well. Turns out, surprise! their parents didn't know they were having twins until the doctor saw Drew shortly after Jonathan was born. From what the brothers said, the boys had in-sync heartbeats and Jonathan, the older of the two was squashing down on Drew's head so no one knew he was there. Imagine that! The doctor actually walked out of the delivery room after the birth of the first, had to be called back in to deliver Drew, just four minutes later.
Each episode of Property Brothers starts with the brothers showing the buyer(s) a house with everything on their wish list, something that tends to be over their budget. Afterwards, the brothers show them fixer-uppers, usually with potential to become their dream home. After the buyers narrow it down to two houses, the brothers use computer-generated imagery to reveal their reimagined vision of the home after renovations.
Drew and Jonathan Scott also have several other shows : Brother vs . Brother, Buying and Selling, and Property Brothers at Home. Drew is the real estate expert who scouts neglected houses and negotiates the purchases. His brother, Jonathan, is a licensed contractor who renovates houses. Together, the Property Brothers help families find , buy , and transform fixer-uppers into dream homes on a strict timeline and budget.
Before going into real estate as a profession, the brothers tried acting. Both Jonathan and Drew appeared on the Canadian television show Breaker High. Drew had a role on Smallville and Jonathan was on the X-Files. The two also did improvisational comedy and Jonathan became an illusionist.
I have to admit, once I started watching these two, I was laughing, enjoying myself and appreciating the fine art of salesmanship, creativity and entrepreneurship. These two have rolled the best of life into a mighty fine show. It never ceases to amaze me how many young talented millennials are making real estate work for them. It turns out they are buying houses earlier, owning them for shorter periods of time and flipping them more. It's working, and we'll soon get used to it. For the second year in a row, millennials, those born between 1980 and 2000, represent the biggest group of home buyers in America, 32% of the market, according to a March 2015 report from the National Association of Realtors.
I like watching the trends and the growth and the new ideas as they come onto the market and gain our attention; everything from Uber to Airbnb to interactive apps such as Happn and Whatsapp. It's fun, it's exciting, it's today!
Take what you like, my friends and leave the rest… just remember the times they are a-changin' and we are too. Make the most of what you've got and enjoy this very fine month of September.
If you're not yet a fan of the hugely popular HGTV show, Property Brothers, now is the time to get acquainted with two great guys who are funny, upbeat and hugely successful.