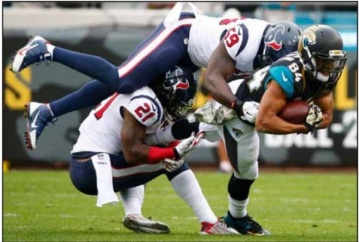 Every year we try to give the average reader the opportunity to keep track of the fortunes of the state's NFL franchises.
Since we are a South Florida-based publication, we tend to lean towards Miami coverage, but that doesn't mean we don't try to give some run to the other two squads in Jacksonville and Tampa Bay. If you're looking for in-depth analyses, or the X's and O's, there are plenty of resources to peruse. Our job is to give the casual reader a bird's eye view, so with that in mind, let's begin.
MIAMI: If there was an award to be given to a team for off-season success, the Dolphins would have been right up at the top of any list. For starters, they identified certain weaknesses at defensive line and wide receiver. Solution? Go out and sign the best lineman on the open market in Ndamukong Suh, and draft Louisville standout Devante Parker. Done. While Parker has battled preseason injuries, and Suh must learn to control his passion, these are clear upgrades. Now, if emerging star QB Ryan Tannehill can continue his climb into the upper echelon of quarterbacks, and fourth year head coach Joe Philbin can improve on his ingame management, Miami should contend for the AFC East. Prediction:
Miami puts it all together, goes 11-5, and wins its division. Bonus note: the final game of the year features a showdown with the defending champs, New England Patriots. Look for a changing of the guard, and the playoffs to come to South Florida for only the second time in 15 years.
TAMPA BAY: Anytime your team goes 2-14, and gets the door prize of the first pick in the draft, it's a mixed bag; on one hand, you're sick about how bad your team is, while at the same time you're encouraged for the future. In this case, the future takes the form of Jameis Winston – former Heisman trophy winning quarterback from Florida State. Although his maturity issues are a concern, his raw talent is hard to overlook. Yes, his first week out of the box was not good – 16 of 33 with two interceptions, but also with two TDs. Look, the learning curve in the NFL is steep and unforgiving, but sometimes, you have to roll with what you´ve got; either you believe in Winston or you don't, and the only way to be sure is to let him play. The schedule is not daunting, and there are some wins to be had, but at the end of the day for Bucs fans it's about the future - not the present. Prediction: Four wins are possible, maybe more if Winston develops.
JACKSONVILLE: Ah, the Jags. What can I say? They draft a franchise QB in Blake Bortles, but the other players around him never develop or get hurt. This year, their big off-season acquisition was TE Julius Thomas, who promptly breaks his fingers in an exhibition game. Their first round choice, DE Dante Fowler, didn't even make it to preseason, blowing out his knee in a scrimmage back in the spring. They do have some defensive talent, but the football gods seem upset with Jacksonville. In fact, the Jags may be looking at the first pick in next year's draft. Prediction: 3-13; hey, don't blame me, I'm just the messenger.
So, if you're looking for January football, South Florida looks to be the place to be. Fins Up!!