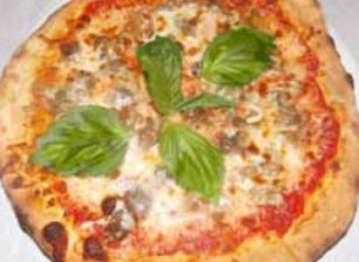 A Touch of Genius in Every BitePizza, Bar and Tapas
For the ultimate in superlative Italian cuisine, beat a path to Angelo Elia Pizza, Bar and Tapas located in the posh Jog Road enclave of Delray. The spacious interior is modern, stylish and instantly appealing with its contemporary furnishings, illuminated displays and open kitchen. The outside patio is animated by light tones, white furniture and sparkling windows. Our seamless experience was enhanced by the charm of manager John Harte and the flawless service of our waitress, Carmelita.
The versatile menu embraces everything from dazzling tapas to spectacular mains, signature pizzas and more. Each dish is presented with more than a modicum of flair and created with unique flavor combinations.
On the tapas menu, Chef Angelo Elia offers a captivating mix of specially sourced premium ingredients. The Eggplant Parmigiana ($12) presents layers of the savory purple delicacy placed in a pool of superlative marinara. The ensemble is energized by Reggiano, basil and a mantle of fresh mozz. Veal Meatballs ($12) are magical inventions that become ambrosial with pecorino, basil and a heavenly marinara that we used as a dip for the crisp, aromatic basket of onion-Rosemary-parmesan crusted bread.
The Greca Salad ($14) provides mouthfuls of vibrant garden fresh vegetables, olives, feta and pepperoncini - a refreshing interlude before the arrival of the Porcina pizza ($18) whose wafer thin crust supported a bounty of porcini mushrooms, tomato sauce, mozz and truffle oil. Every nibble overflowed with delectable flavors and textures.
Each of our mains was a triumph that harmonized disparate ingredients in novel ways. Grilled Salmon ($24) is a dream dish beautifully plated with a perfectly prepared filet recumbent on a base of savory cannelloni beans, crisp arugula and crowned with a superbly crafted tomato topping.
The Spinach Linguini with Rosemary Grilled Chicken ($20) hits all the right notes with a stirring medley of luscious cuts of filet, al dente pasta, wild mushrooms, grape tomatoes and broccoli rapini. Touches of extra virgin olive oil, fresh garlic and fragrant goat cheese transform the main ingredients into a memorable masterpiece.
The light, crisp Hot Apple Tart with Cinnamon Gelato ($10) is a sublime conclusion large enough for two or more. The lengthy wine list with its penchant for extraordinary Italian vintages (all quite affordable) is a must read printed on the back of the menu, Happy Hour is available Monday thru Friday and on Tuesday's Angelo Elia Pizza, Bar and Tapas hosts a Ladies' Night. For each of these occasions, a special tapas menu is provided at the bar and high tops, drinks are 2 for 1 and wine is half off on Monday's. For more information, log on to www. angeloeliapizza.com.