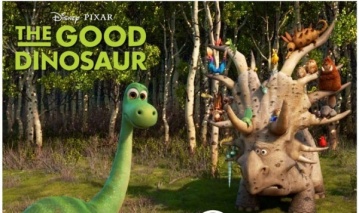 In the last week of November, six days after the release of the newest Hunger Games movie, and nearly a month before Star Wars: The Force Awakens arrives in cinemas, The Good Dinosaur, the latest film from digital animation studio Pixar, will be released. Disney•Pixar's The Good Dinosaur imagines a world where dinosaurs never became extinct, and tells the story of a lost young dinosaur (Arlo) finding his way back home. This and more are explored in the preliminary public relations efforts to educate and excite the public about this new cinematic release. There was only one problem in making this film: What do you study when your main characters have disappeared?
Peter Sohn, the director of The Good Dinosaur, is making his feature filmmaking debut, having worked in Pixar's art, story and animation department for 15 years. During a presentation in Toronto, Sohn, who took over The Good Dinosaur from original director Bob Peterson, who had come up with its concept and developed it for several years, cited an in-house Pixar mantra: "Fail as fast as you can", as told to Huffington Post reporter, Dave Parfitt. It turns out, The Good Dinosaur didn't fail at all. It is a story with a message about life, overcoming fear and the power of a family's love. It is also a western film, so Director Peter Sohn set out to discover more by heading to the wilderness.
Sohn took over director duties for The Good Dinosaur in August 2013. The film was in a massive state of flux. Paritt reports that Sohn, "was in this crazy place and needed to go out, get lost, start researching, and get re-energized". So his team headed to the wilderness, the backdrop for their story, to get lost - and find their story.
Sanjay Bakshi, the supervising technical director at Pixar Studios, visited the Cosford Cinema at University of Miami recently to talk about his experiences. This project is finally complete after five years with the involvement of more than 200 team members, and needless to say, "It's a great feeling," Bakshi shared with Miami Hurricane writer David Ufberg.
The animation guru said, "I loved working on The Good Dinosaur because it's a different kind of movie." Many aspects of this film set it aside from other movies Pixar has done, but the primary factor, Bakshi explained, is its heavy emphasis on nature. Director Pete Sohn wanted to capture the beauty of the ambient environment and highlight its treachery and mystique.
"We did a bunch of research.… We went horseback riding, and the purpose of that trip was just to get lost," Bakshi said. "We went as far as we could and took pictures. We really tried to immerse ourselves in the beauty of that area. There is no feeling quite like experiencing the beauty of nature firsthand and then creating and sharing that beauty with millions of people", he said. All that magnificent nature isn't easy on the computers, however, The Good Dinosaur was the most graphically intensive Pixar project to date.
The research trips truly changed the director, and in the film the love and care and closeness of a family is depicted. The story is one that grabs your heart and takes you for a ride, right from the start. Pete Sohn and his team lovingly depict a ranching family from Oregon in The Good Dinosaur as a family of T-Rexes. Butch is the T-Rex dad (voiced by Sam Elliott) herding "cattle" with his own kids Nash (A.J. Buckley) and Ramsey (Anna Paquin).
Sohn equates the making of The Good Dinosaur with the film's message : "Hopefully people find the themes in the film to be strong, but it goes to a simple idea of how to get through fear."
Some Pixar directors have flown the nest to make feature films for other studios, but Sohn seems content to stay there his entire career. "It's become a family to me," he told the reporters at the Huffington Post. "When I was growing up in New York, it was all about your skin color and minorities were separated and segregated - the Puerto Ricans here, the Japanese there. At Pixar it's like a tribe where everyone loves movies passionately. When I was at Warner Brothers years ago, when you were done with a job everyone was laid off and you had to find another gig. It was competitive and cutthroat. Pixar doesn't work that way. They try to create a community when after your film's done, you can stay and hang on a little bit."
Director Peter Sohn summed up the impact of those research trips on the film: "understanding the simple beauty and capturing the love of a family . " Disney•Pixar's The Good Dinosaur opens on November 25, 2015.
Enjoy the movie, enjoy your family and Happy Thanksgiving from the Happy Herald!