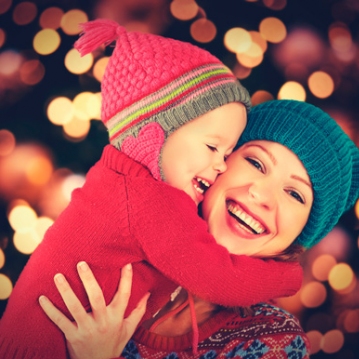 For the many years I've been writing this column, I conclude each year with an inspirational message about the importance of the holidays. This year I would like to take a different approach. I would like to suggest that the holidays don't really matter, and there is nothing you really need to do about them.
Such a suggestion, of course, reads like heresy. "But the holidays do matter!" a voice in your head chides. "They are religiously significant, a season to gather with family, a time to complete the old year and prepare for a new and better one."
Certainly. But try this approach on for size and see how it might fit:
The holidays, while fun and significant, drive lots of people crazy. There are pressures to buy the right presents for the right people; obligatory family and office gatherings; commercialism up the wazoo; running up credit card debt; pregnant women trampled to death by Black Friday shoppers rampaging the superstore at 5 AM; hassling with companies that don't ship presents on time; traffic and travel gluts; fielding invasive questions from obnoxious relatives and co-workers about your relationship status; fighting over whether the kids are going to stay with mom or dad; and on and on. Thus the season of cheer becomes the season of stress.
If your holidays have become more and more work and less and less fun, this year don't do anything for the holidays that grates against your soul. Don't do anything because you are supposed to. Or because you always have done it that way. Or because you might disappoint someone if you don't. Or because you feel guilty. Or because you are afraid.
A coaching client told me she had planned to go on a 10-day silent meditation retreat, but she was receiving lots of pressure from her family and friends to cancel. I asked her why she might not go. "I'm afraid I might lose their friendship," she answered.
I replied, "So what you are saying is that you have lots of dysfunctional relationships in which other people selfishly want you to live the life they would choose for you to meet their own neurotic needs, and they want you to sacrifice your joy so they can feel secure in their own little controlling world... And you are afraid of losing such demeaning relationships?" She had to laugh. I was dramatizing the situation, but not by much. Real relationship empowers everyone involved to be more of who they are and to follow their joy. If your holiday relationships fall into that category, they are truly serving you. If people are pressuring you to do what they want you to do, or your inner critic is beating you up for not making someone else happy, you could make this the best holiday season of your life by letting go of everything that is dysfunctional and embracing only what brings you peace.
We are told that the three wise men followed a star to the Christ child in Bethlehem. The wise men represent the highest use of body, mind, and emotion. The star is the guidance of your soul. The Christ child is your true self. When you follow your inner peace, you are led to the Christ. When you burn the flame of your soul, you light a menorah that can never flicker. It's all about finding and fanning your inner light, your only purpose in life.
You are an eternal being who lives beyond time. You are greater than any cycles that occur in form. Jesus was born on Christmas, but the Christ is eternal. The miracle of Hanukah occurred a long time ago, but there are new miracles, and many, given each day. And why would a New Year's resolution be any more important or powerful than any affirmation you would declare on any other day of the year?
A Course in Miracles tells us that the only purpose of time is to learn to make the best use of it. This year make the holidays your own. Do what is uplifting to your soul and release all else. Your primary responsibility is to your spirit. My friend Angela loves Christmas trees. Last year she put up 27 Christmas trees in and around her home. For her, the ritual is holy. She is making the most of her season. Others would rather not go to one party. For them, staying home is holy.
The holidays are holy not for anything we do, but for the consciousness we bring to our acts.
This year choose your activities consciously. Be where you want to be, not where you should be. Be with the people you want to be with. Wipe the slate clean of history, tradition, rules, and expectations, and make each day your own. Start a new tradition of soul honoring. Other people can legislate rituals, but only you can - and must - legislate your consciousness. Let joy be your compass.
"Holiday" means "holy day."
Every day is holy. The sacred abides with you at every moment, everywhere you are. It is in you. You carry it with you. You are swimming in a sea of blessedness at all times. If you are going to celebrate anything this holiday season, celebrate the light in you and around you at all times. Then the angels will truly sing.
---
TEACHINGS FROM THE HEART

Alan Cohen is the author of A Course in Miracles Made Easy. Join Alan and intuitive Dougall Fraser in Hawaii, February 21-26 for a life-changing retreat, The Guru in You. For more information about this program, Alan's Life Coach Training Program, free daily inspirational quotes, and weekly radio show, or visit www. AlanCohen.com.