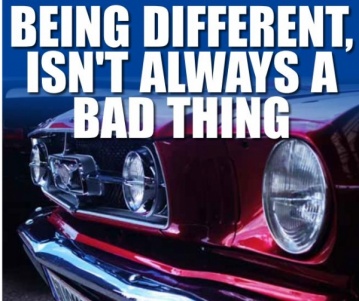 Being different isn't always a bad thing, especially when you are a young girl who has an interest in cars. How do you communicate this to others when they have their visions on toys and later in life, boys! All you want is to learn more about cars, but yet no one is willing to teach you, because you are a girl and most girls have no interest in getting their hands greasy.
Not true for Angie Coots, 35, from Harlan, KY. At a very young age she would dream about cars and wanting to know more about what makes them tick. She could never find anyone in her circle of friends who had the same interests until she was in her 20's when she met her husband. It wasn't until then she be actually begin learning, watching her husband and friends working on their cars.

Angie has been waiting some 20 plus years to learn about cars. Since she became more eager to work on her own car, she decided in 2006 to sell her Ford Taurus for a 2001 Ford Mustang GT. For fun, she decided to take the Mustang to the track, just goofing around on the track to see what it could do, and mainly doing practice runs, which also gave her the opportunity to get the feel of a track experience. This was the beginning of a long-awaited love. Angie's interest was more than a hobby; it became a labor of love, so much so that it bothered her not knowing what the guys were talking about when it came to cars and their parts, and she wanted to dig in and learn because something was missing. This was really exciting for Angie, because she began to ask questions while her husband and friends would perform repairs or modifications, and not knowing the entire mechanical lingo, she found some college Mechanical Repair books at a garage sale and began teaching herself.

It did not take long for her to burn up Google researching everything she could on every detail about anything she could read about when it came to cars, repairs and parts. Her passion and strong will to fulfill her dream in becoming knowledgeable on turning wrenches was in full swing and on the right track.
Angie knew it was time to really get her hands dirty, and that was to build her own car from scratch. This might seem out of reach, and to some, more than one could handle with such little knowledge, but not for Angie, she was ready to dive in.
Looking for a body to start with, Angie found a 1986 Chevy Camaro for $500.00, no transmission, motor, just a bare bones car. She built a 406 cubic inch small block engine backed by a 350 turbo transmission, built the way she wanted it, and the engine was also powered by a 250 shot NOS (Nitrous Oxide). Angie states that it may have not been the best build, but for her first attempt, what an accomplishment.

Angie was on the right track to what was to come for her in the future. She headed down to the local track to try out her build and to see just what this baby could do on the 1/8 mile. Amazingly, the car ran 7.5 in the 1/8 mile and Angie now knew that there was a lot of room for improvement. You have to admit, for a woman to go from knowing absolutely nothing about cars to building her own Nitrous shot car is something to brag about. But as a mother of a four year old, having a race car as your everyday driving car probably isn't practical; especially when you strap your child car seat next to a Nitrous bottle between her and you, plus trying to hear what she is saying over the loud exhaust needed some evaluating.

Angie traded in her race car for a more family friendly vehicle, a 2005 Ford Mustang GT. Although it is not race ready YET, she does have plans for it in the future. Angie also is considering upcycling car parts, currently she is working on a cam shaft lamp. You just might see her products on the market for sale one day.
HAPPY MOTORING
Tee702@aol.com Teresa is a top-notch mechanic with more than 28 years of experience repairing everything from Porsches to school buses. Currently she teaches a basic auto-repair class for women.